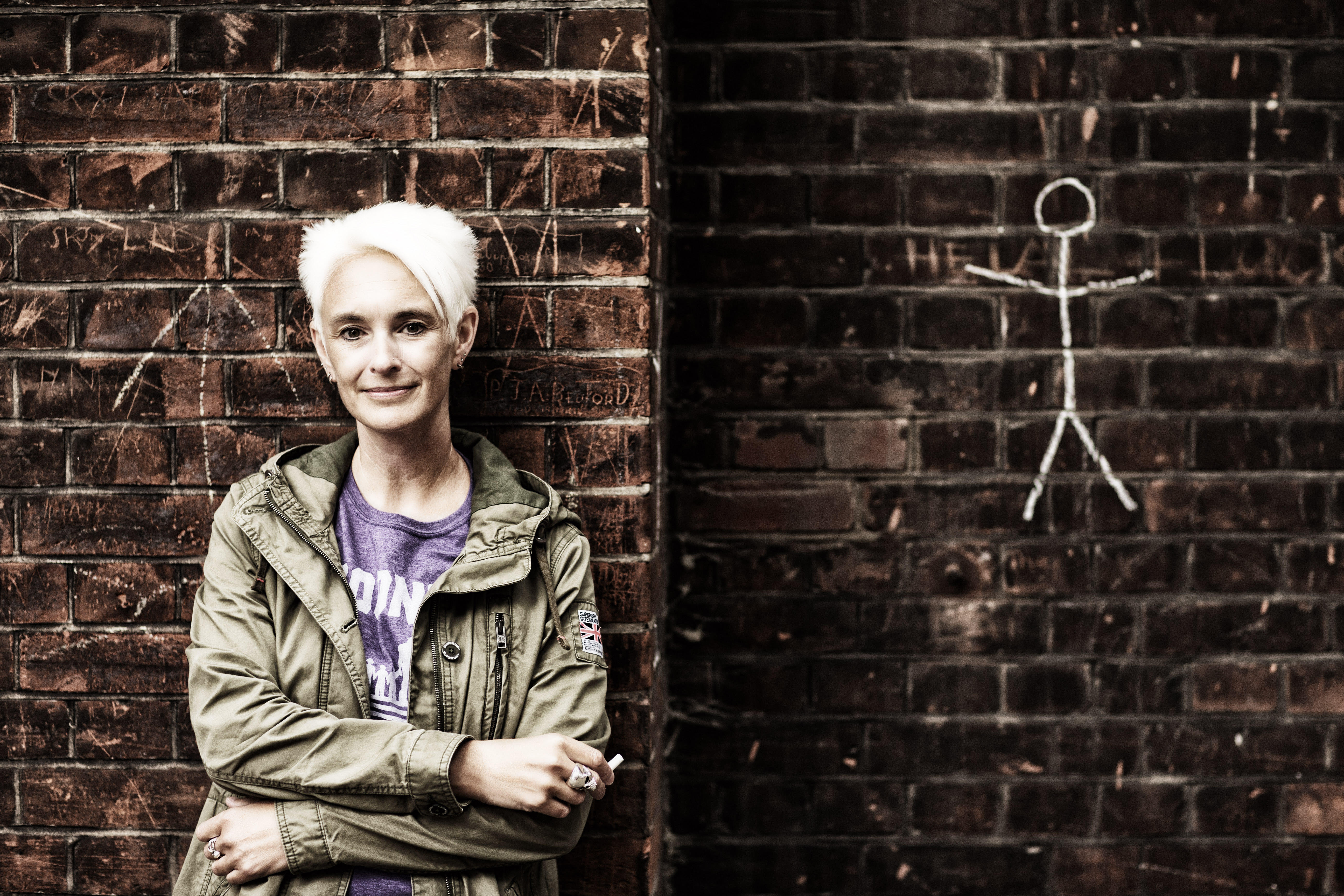 Everyone has a story to tell; each one of us writes poetry – some, without even realising. That stream of consciousness that runs in our veins? It's poetry waiting to be written. We believe in the power of words, and that power is what urged us to set up PoetsIN.
Because of those inner streams we are compelled to bring you our regular interview feature, Writer Profiles. This week we're talking to the awesome author C.J. Tudor.
C.J. lives in Nottingham, England with her partner and three-year-old daughter.
She's worked as a copywriter, television presenter, voiceover and dog-walker. She's now thrilled to be able to write full-time, and even more thrilled to be endorsed by a certain Mr. Stephen King. We'll go into that shortly…

Who are you and what do you do?
I'm C. J. Tudor and, these days, I'm lucky enough to write books for a living. But it hasn't always been like this. It took me over ten years to get published and when I wrote The Chalk Man I was walking dogs for £10 an hour.
I still feel a little guilty that I get to call this a job and, I suppose, a small part of me is worried that someone might take it all away. Hence, why I can't stop writing.

What is your relationship with words and how has that evolved?
I think a love of words always starts with reading. By discovering how words can take you to amazing places and on exciting adventures. Enid Blyton was the first author who did that for me. And then, I got greedy and wanted to create worlds out of my own imagination. Once you realise you can go anywhere with your mind, it's a wonderful freeing experience.

How long have you been writing, what is your favourite style of writing and why?
I've always written from as soon as I could string a sentence together. I used to put together little story books when I was a child. When I was fifteen, my English teacher wrote on one of my essays: 'If you don't become a bestselling author I'll be very disappointed'. It's only taken me thirty one years!
I suppose my favourite style of writing is writing that doesn't feel like writing. It's natural, conversational and to the point. I'm not a fan of obvious writing. Writing that demands to be noticed. I admire writers who can convey a lot in very few words. Anyone can waffle on for ages. Condensing something to its purest form is a real skill.

How on earth did it feel when Mr Stephen King endorsed The Chalk Man and how did that come about? (btw – I once picked up a car in Boston to drive to NY and drove hundreds of miles in a diversion just to see his house and stay a night in Bangor – Paul).
I was on a train when I saw the tweet from Mr King. I just leapt up and shouted, 'Bloody hell!!' much to the bemusement of the other passengers!
It's a cliche but it really was all of my dreams come true. Stephen King has been my hero since I was twelve when I first picked up a battered copy of Christine from the local library. His books are a massive part of my life and a huge inspiration.
His incredibly generous tweet meant the world to me and it still puts the most massive grin on my face whenever I think about it. I'm not ashamed to say I re-read our Twitter exchange a lot!
(I love that you went to visit his house. One day, I want a Gothic mansion with gates decorated with bats and spiders. I'd quite like the gates now but I'm not sure how that would go down with our neighbours in Arnold, Notts!).
While we're on the subject of The Chalk Man, let's drill down to detail. Is the place and are the characters based on people and places you know?
The town of Anderbury is loosely based upon the Wiltshire town of Salisbury where I was born but I've mashed it up a bit with other places. The characters aren't based upon anyone I know specifically, but certainly the stuff the gang of friends get up to is similar to the things my friends and I would do as pre-teens growing up in the suburbs in the 80s.
We never found a dead body in the woods though – but we really wanted to!
It's an incredibly gripping and (I thought) very British book. How has it been received in other territories?
Thank you. Remarkably, the book has been sold in 38 territories and it's been a bestseller pretty much everywhere it has been published so far. Which is amazing! I think it's because that idea of Britishness, of the picturesque small market town, is something that other territories are very familiar with. But also, childhood, bullying, the loss of innocence are universal themes everyone can identify with.

Many of us within this group have experienced times where writing has helped us overcome times of pain, describe the first time you realised the true of power of words.
I'm an only child and growing up I was often lonely, so I used to invent complete fantasy worlds to inhabit. As I grew older, I loved to lose myself in writing, especially when the real world wasn't making me feel so great.
Like a lot of teenagers, I didn't have a great time during senior school. I wasn't one of the popular kids and I suffered from anorexia – that took its toll on my mental and physical health.
I've always found writing and reading a solace. Writing is a way to exorcise the things that are troubling me, like pulling out splinters. Reading is the balm to soothe the sore patches.
Describe your writing process, from how a book begins with you to the end.
Instinctive. I have an idea and I start writing. That's it. I don't plan and the story evolves as I write, often taking lots of unexpected diversions along the way. For me, it keeps it fun and interesting. If I tried to plot I'd be bored before I started. Sometimes, I have a vague idea of the ending. Sometimes, it comes to me part way through.
Many writers talk about how sad they feel when they finish a book. I'm always bloody relieved that I've made it!

Many writers love to read. Do you have a favourite book and why? 
Probably The Shining by Stephen King or Spares by Michael Marshall Smith. The Shining is a classic and I never tire of re-reading it. I've also read Spares multiple times. It's wonderfully inventive, dark, emotive and yet also funny. It's just a brilliant book. I'm a huge MMS fan, ever since I stumbled upon Only Forward. I get very excited every time he has a new book out!
If you had to be remembered for just one of your books, which one would it be?
Well, as I've only written one so far, it has to be The Chalk Man! It's a good start.
We all have moments where we truly connect with words we read. What quote inspires you the most. Why? 
It's a quote from Only Forward by Michael Marshall Smith. I used to have it framed in my first flat. I just think it sums up relationships so wonderfully:
"Everyone's alone in their world, because everybody's life is different. You can send people letters, and show them photos, but they can never come to visit where you live.
Unless you love them. And then they can burn it down."
You've delivered a doozy with The Chalk Man. Do you now feel a pressure to better yourself in delivering to a public hungry for your books?
Yikes. I don't believe you can really think too much about other people's expectations or you'd drive yourself mad. Obviously, you want to continue to grow and improve as a writer and I feel a responsibility to my publishers, to justify their faith in me. But ultimately, you can only write what you love and hope other people do too.
Writer's block, real or a myth?
Well, I'm sure it feels very real if you are experiencing it. I think it can be a form of self-paralysis. The minute you tell yourself you have to have an amazing idea then the less likely you are to think of anything.
I find the best ideas come when you're not consciously trying. My problem has always been too many ideas and not enough time. Maybe I'll go through a dry spell in the future. At the moment, fingers crossed, I've got lots of ideas clamouring to make it to the page!
Finish this sentence… Words are the epitome of… 
Everything. Words can take us to places that we can never go to physically. They are as close as we can come to living in multiple parallel universes.
What's next for CJ? We see you have a new book on the horizon…
Yes, it's out in February 2019 and it's called THE TAKING OF ANNIE THORNE.
It's another dark, creepy thriller and it's set in a small ex-mining village in Nottinghamshire.
Joe Thorne grew up in the village. When he was fifteen, his little sister, Annie, disappeared. At the time, Joe thought it was the worst thing in the world that could ever happen. And then she came back.
Twenty-five years later, in the same Nottinghamshire village, eleven-year-old Benjamin Morton is bludgeoned to death by his own mother. On the wall above his body, just three words scrawled in blood: NOT MY SON.
Joe returns to the village, to work as a teacher at the failing Arnhill Academy. But also, to find answers. However, coming back to the place he grew up, means facing the people he grew up with, the things they did . . . and what they found.
I think, if you enjoyed the Chalk Man you'll enjoy this one. They're very different but – as my lovely editor said – they share the same DNA. Plus, it's creepy as hell!
Check out CJ on Facebook here and follow her on Twitter where she is @cjtudor
Please follow and like us: