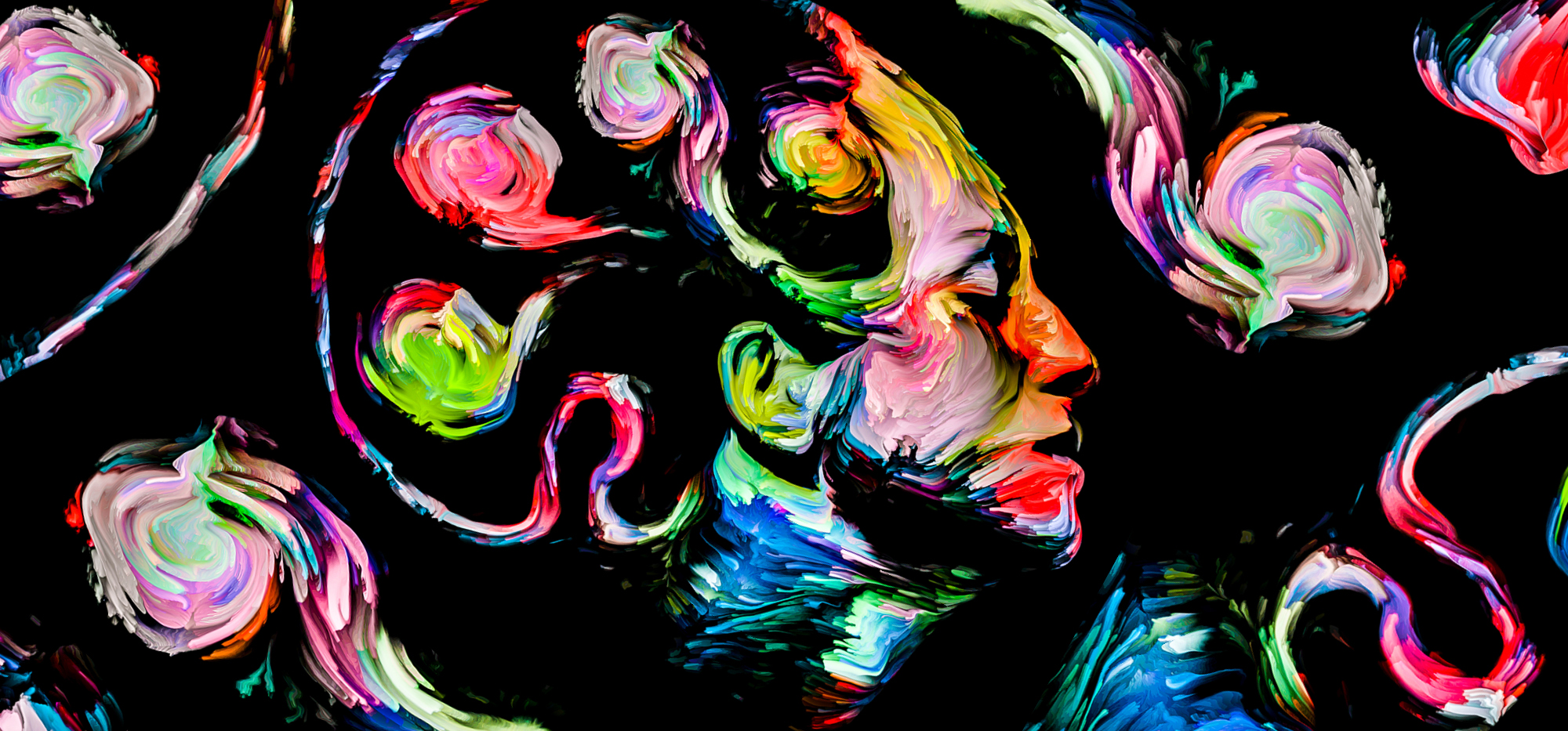 A Charity Created For People Struggling With Their Mental Health By Two Poets Who Have Struggled Too.
Download our mental health resources by clicking the button below.
IN:spiring | IN:formative | IN:clusive

Our donation refund terms can be found here.
---
Looking for services for…
Our Mission Statement
To provide mental health and wellbeing support services through a variety of creative mental health programmes, designed specifically to help those struggling with mental illness by providing tools to reduce the symptoms of mental illness.
To provide wellbeing services and programmes to enhance the mental health and wellbeing of individuals with an interest in furthering their knowledge of mental health and provide tools with which to accomplish this.
To further work on eradicating the stigma surrounding mental health and the various emotional challenges many individuals face through.
PoetsIN will continuously strive to maintain a community that is INspiring, INclusive, INformative, and one that recognises the INdividuality in each person, through creative programmes, one-to-one support services, a supportive online community, and a team of caring, professional, and dedicated staff and volunteers.
Support
We provide a variety of support services to those struggling with their mental health including our flagship Creative Mental Health Programme™, our Buddy Service™, and one-to-one services.
Empower
We empower individuals through sharing our own experiences with mental ill-health, provide wellbeing services for anyone wanting to learn how to keep their mind healthy, and educating our communities on all things creativity and mental health.
Connect
Community is powerful. We provide a warm, safe, non-judgemental and INclusive community. A space to express and empower, to get support and be supportive.
---
Proven Programmes to Improve your Mental Health.
Our Creative Mental Health Programme™ is a proven programme that provides the tools needed to enable the individual power over their mental health and wellbeing. That's just one of the benefits of participating in our programmes. Read on:
Improvement in Mental Health
99% of our service users have reported an improvement in their mental health.
Reduction of Symptoms
99% of our service users have reported a reduction of the symptoms of anxiety and depression, with 100% stating a reduction in stress.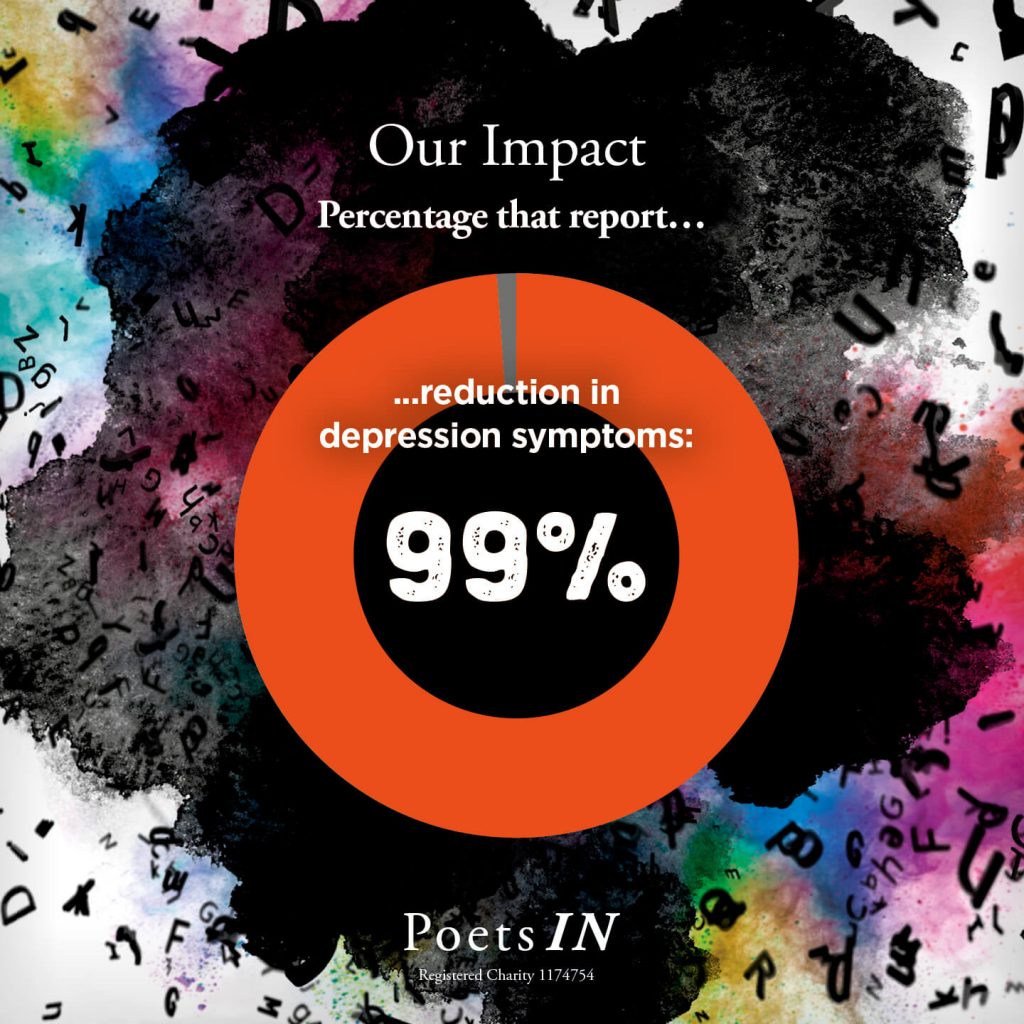 ---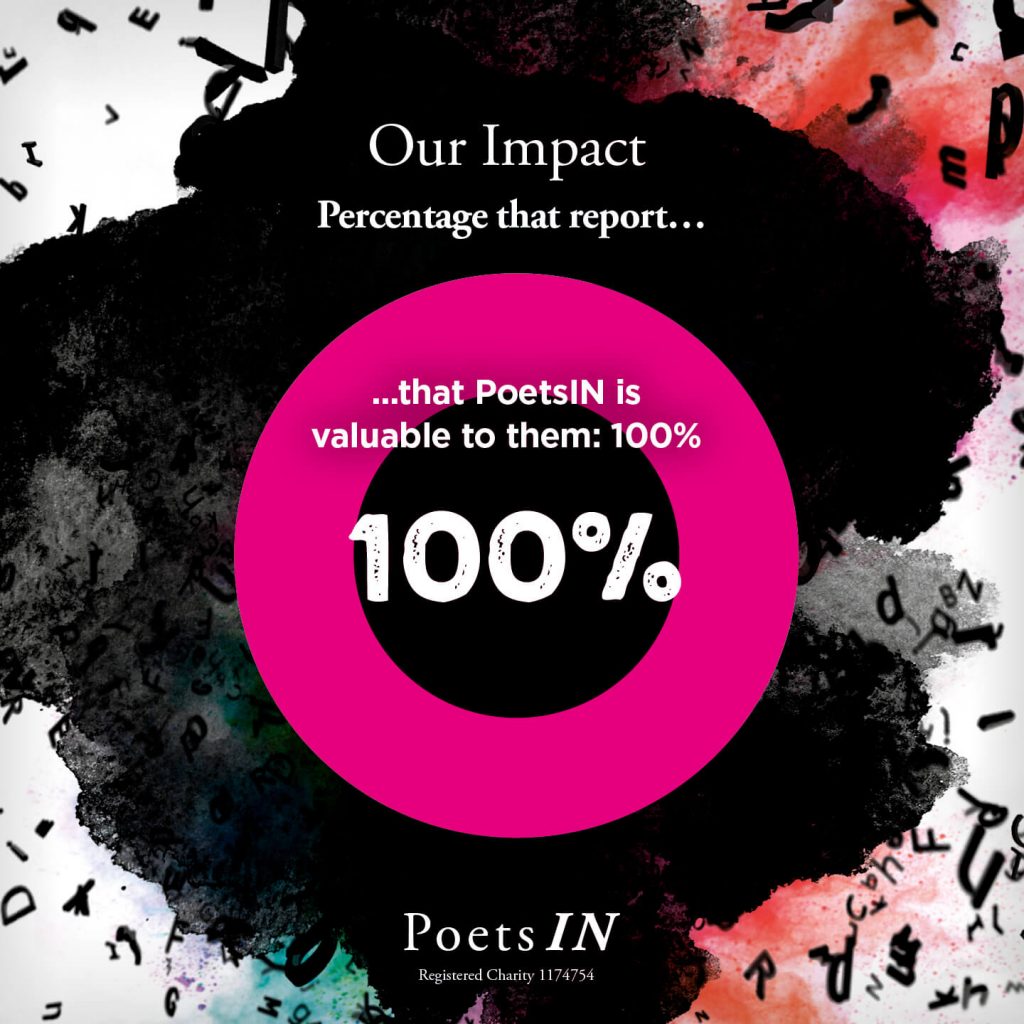 Support that improves your mental wellbeing
You don't have to be diagnosed with a mental illness or be struggling with your mental health to get support from us. We provide wellbeing services to keep your mind healthy.
Feel Included
100% of our service users and community members feel included. We pride ourselves on the INclusivity of our charity and continue to train our team on how to uphold our values.
Feel PoetsIN is valuable
100% of our service users and community members said that PoetsIN is valuable to them.
Get Help Now!
We provide a number of support services to those struggling with their mental health
and those who would like to improve their overall mental wellbeing.
What do people say about us?
We are proud with the work we do to improve lives and the proof is in the pudding. Take a look at the words of our service users below. Read more of these amazing testimonials on our Testimonial page.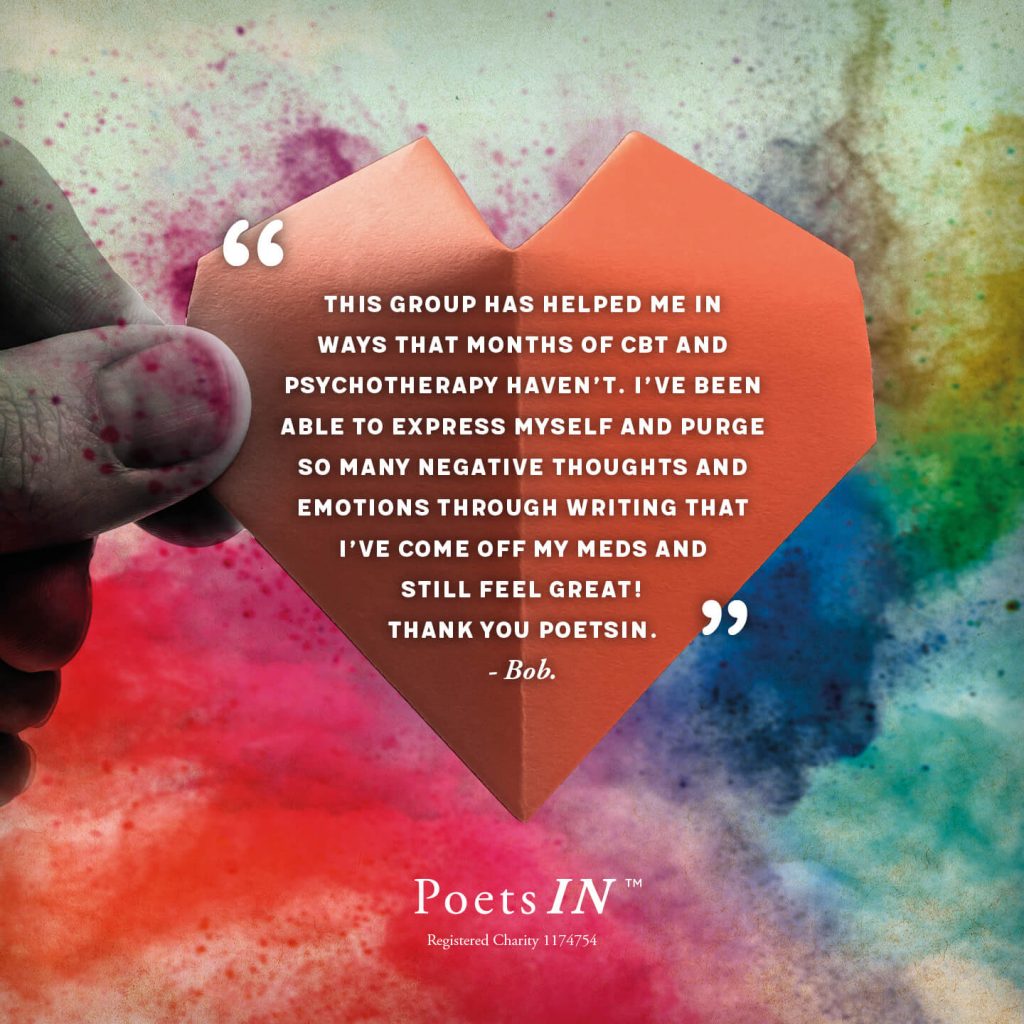 Creative Mental Health Programme™
Support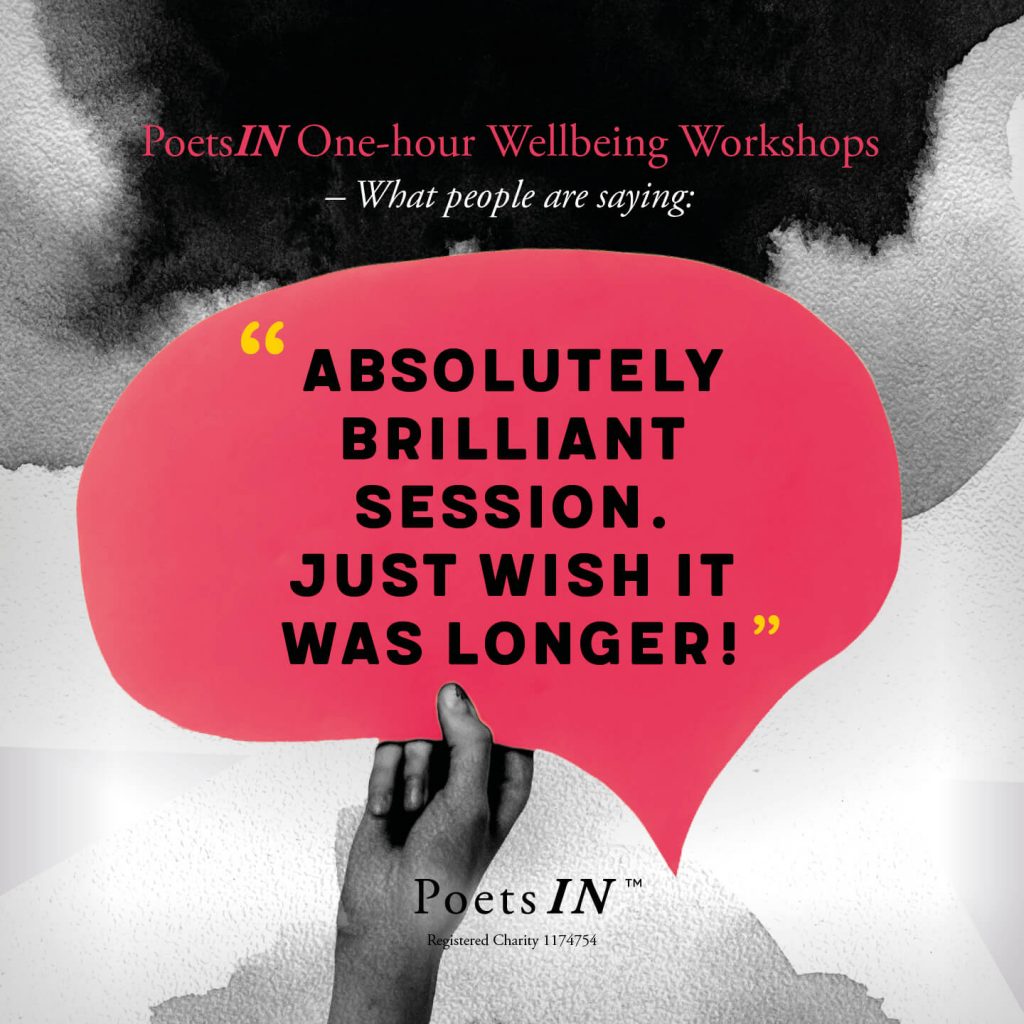 Wellbeing Workshops
Empower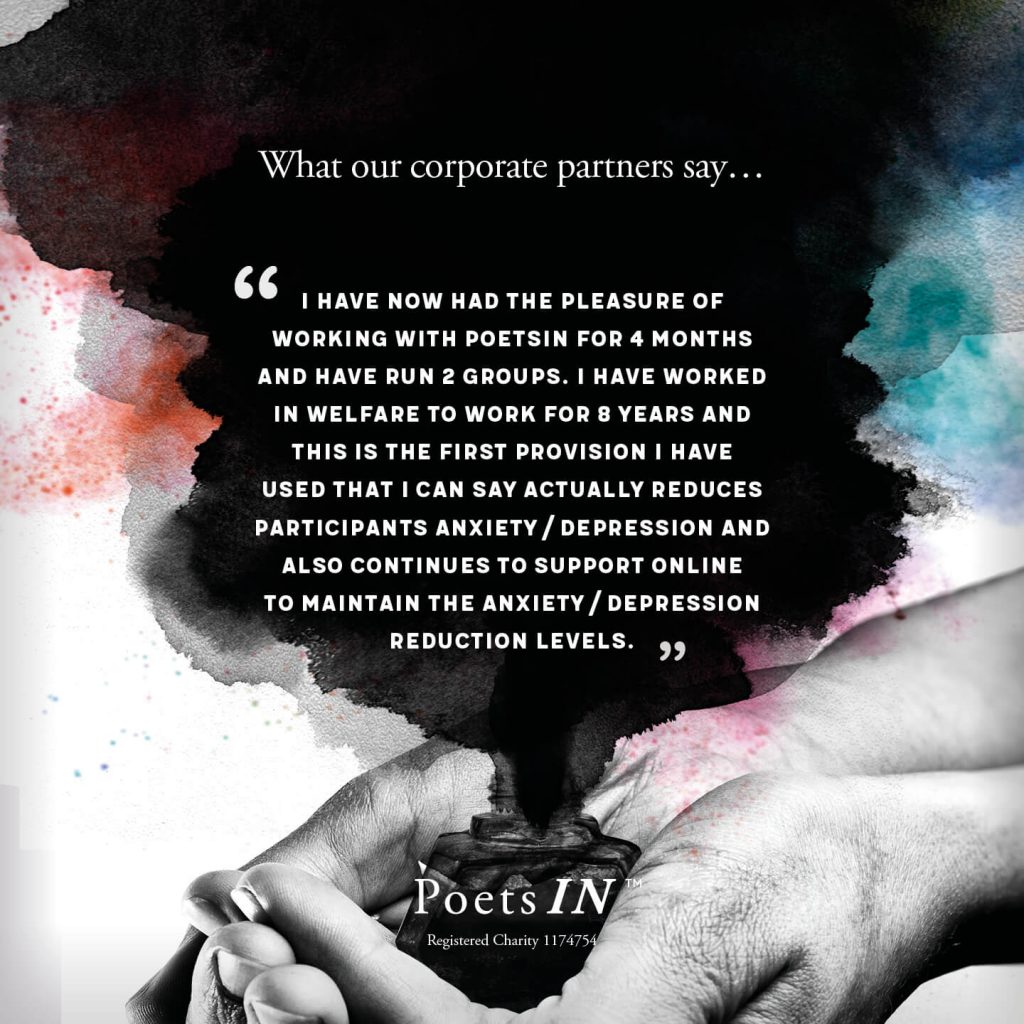 Corporate & Third Sector Partnerships
Collaborate
---
Our Awesome Supporters
PoetsIN wouldn't be possible without the support from our community and through the generosity of our partners and the foundations and grant makers.