Creativity is at the core of what we do. Here at The Creative Mental Health Charity PoetsIN, we rely on fundraising events along with the generosity of companies and trusts to enable us to reach many people within our communities who find themselves with a mental illness.
We like to get stuck in and have plenty of fundraising events lined up that you can get involved in. We have lots of global support so we've kept that in mind when organising these events. Some events will be location based, but other events will be accessible to anyone, no matter where you're geographically based.
Take a look below, and keep visiting for updates. Past events will be displayed towards the bottom of the page, with pictures and information about the event.
If you have ideas for any fundraising events, get in touch. You can also visit our help us page, for more ideas on how to help us thrive.
---
Upcoming Events
September 6th 8:00am for 8:30 to Midday
Charity Golf Day – Chesfield Downs, Herts
If you like golf and live near Chesfield Downs Golf Club near Hitchin, then you'll be interested in signing up to an event on Monday 6th September helping raise essential funds for proven mental health and wellbeing support for children, adults and young people.
Thanks to the generosity of the club and the use of their course (plus the prize of a Four-Ball for four), The Creative Mental Health Charity PoetsIN and the Herts of Oak Chapter of BNI are inviting golf lovers to sign up in groups of 4 for a £250 donation for 18 holes.
The price includes refreshments and a light lunch, and the day offers plenty of competitions, including Beat the Pro, featuring resident golf professional James Clarke, Nearest the Pin, Longest Drive, a putting competition and much more.
There are also a multitude of exclusive sponsorship packages, including sponsoring holes, for which you will have a professionally printed banner on display for the multitude of players to see.
We will also be holding a silent auction on the day with a plethora of incredible items and services to bid on. Bring plenty of cash.
The day starts at 8am for 8:30am start until 12 midday and promises to be both fun and philanthropic! For information and sponsorship, please get in touch on golf@poetsin.com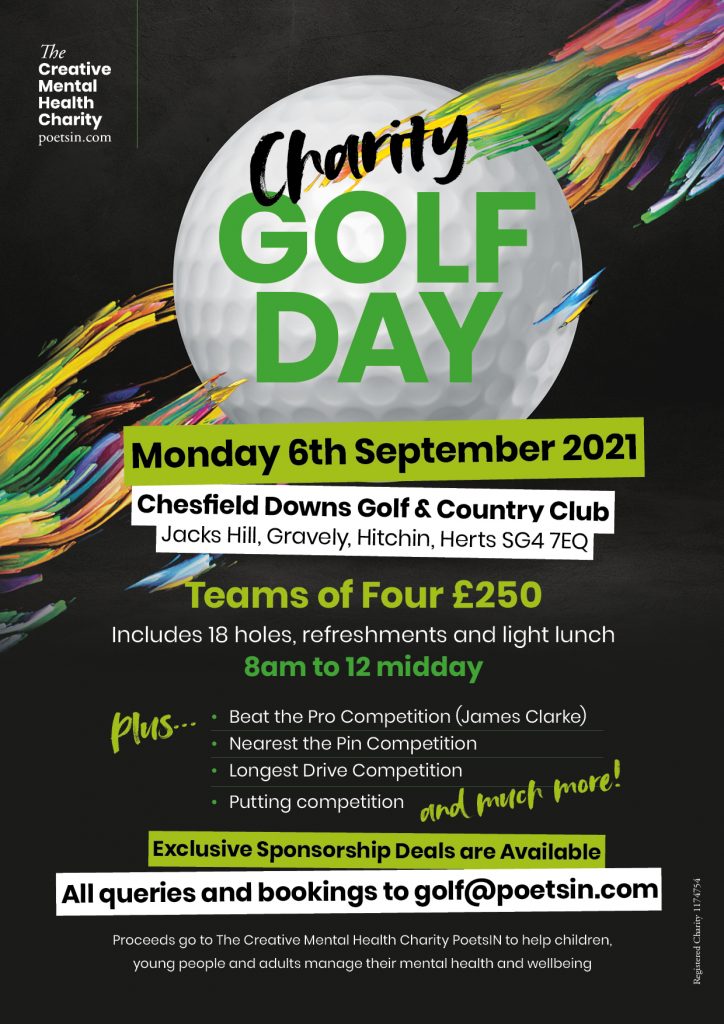 ---
June EVERY YEAR
100k In a Day UK Wide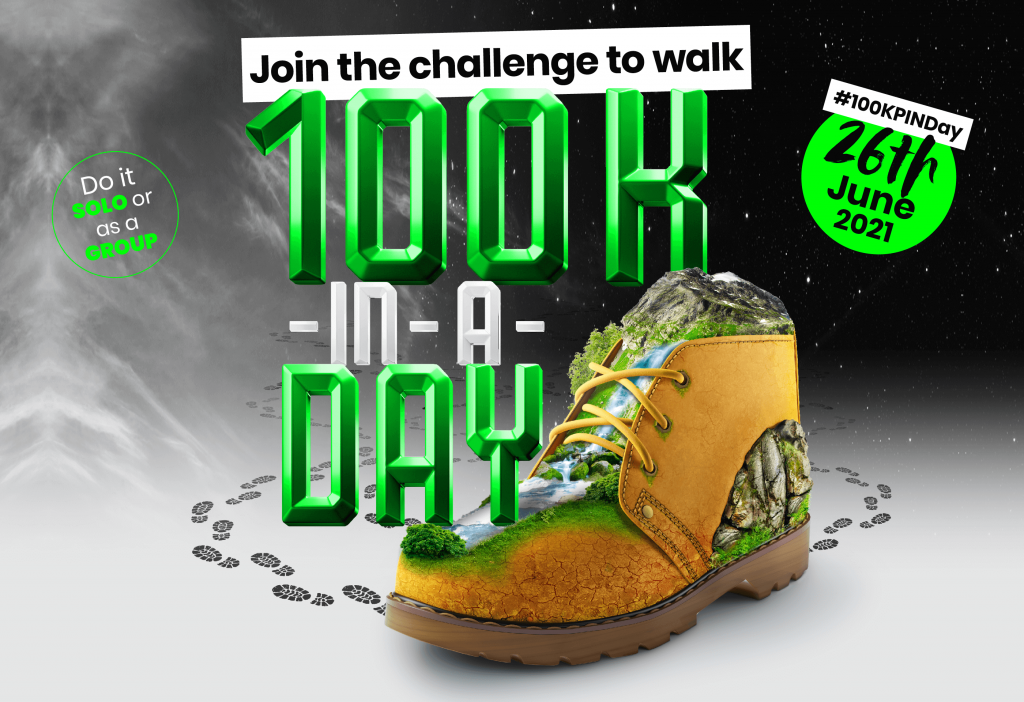 We're walking '100k-in-a-day' for The Creative Mental Health Charity PoetsIN
The aim is to raise money for PoetsIN by walking 100,000 steps in a single day on June 26th 2021 This can be completed as one person walking 100k steps solo, 10 people walking 10k each or even as a group of 100 children walking 1k each… however you make your 100k steps, it all counts!
We know from experience that getting outside and moving your body has an incredibly positive impact on our mental health. We've organised community 'wellbeing walks' in the past, but this challenge takes things to a whole new level!
In this era of the Fitness Tracker, so often we hear the phrase "I must get my 10,000 steps in today". It has become something of a health and wellbeing marker for many, so we decided to take things a 'step' further and 10x it!
An entry fee of £5 per person provides an activity and sponsorship pack downloaded here which provides links to suggested routes, additional notes and FAQs plus a sponsor form so that you or your kids can raise even more money.
We would love to see everyone sharing their progress on the day itself with pictures, live streams and updates using the hashtag #100KPINDay #100kPIN
All money raised goes towards helping children, young people and adults manage their mental wellbeing through our award winning workshops, community and support network.
---
Past Events
August 17th 2019
Organised Skydive at Sibson, Cambs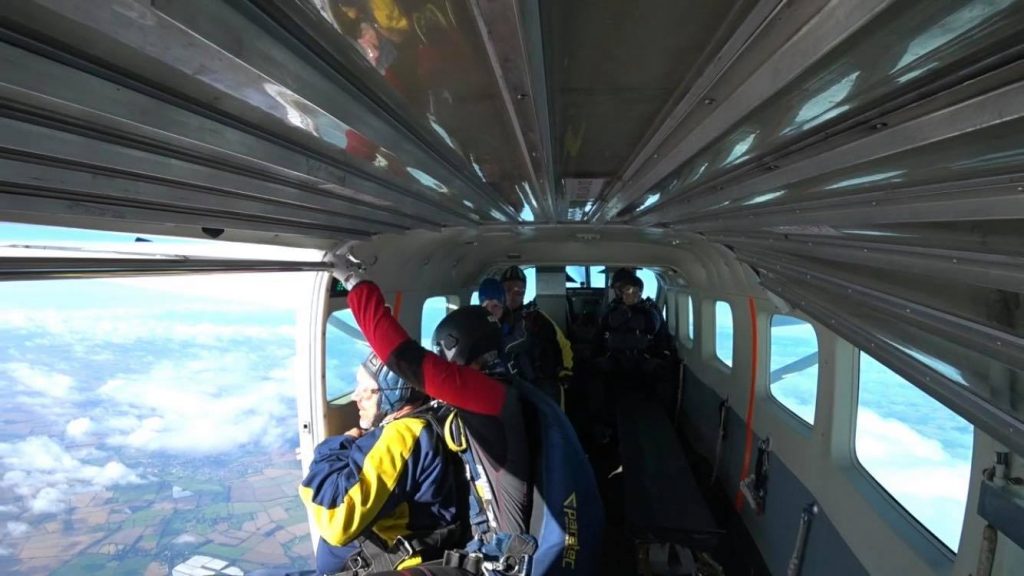 This Skydive for PoetsIN raised over £6k in much needed funds! Read more about the incredible people that threw themselves out of a plane here!
---
September 14th 2019
The Stress Ball Charity Event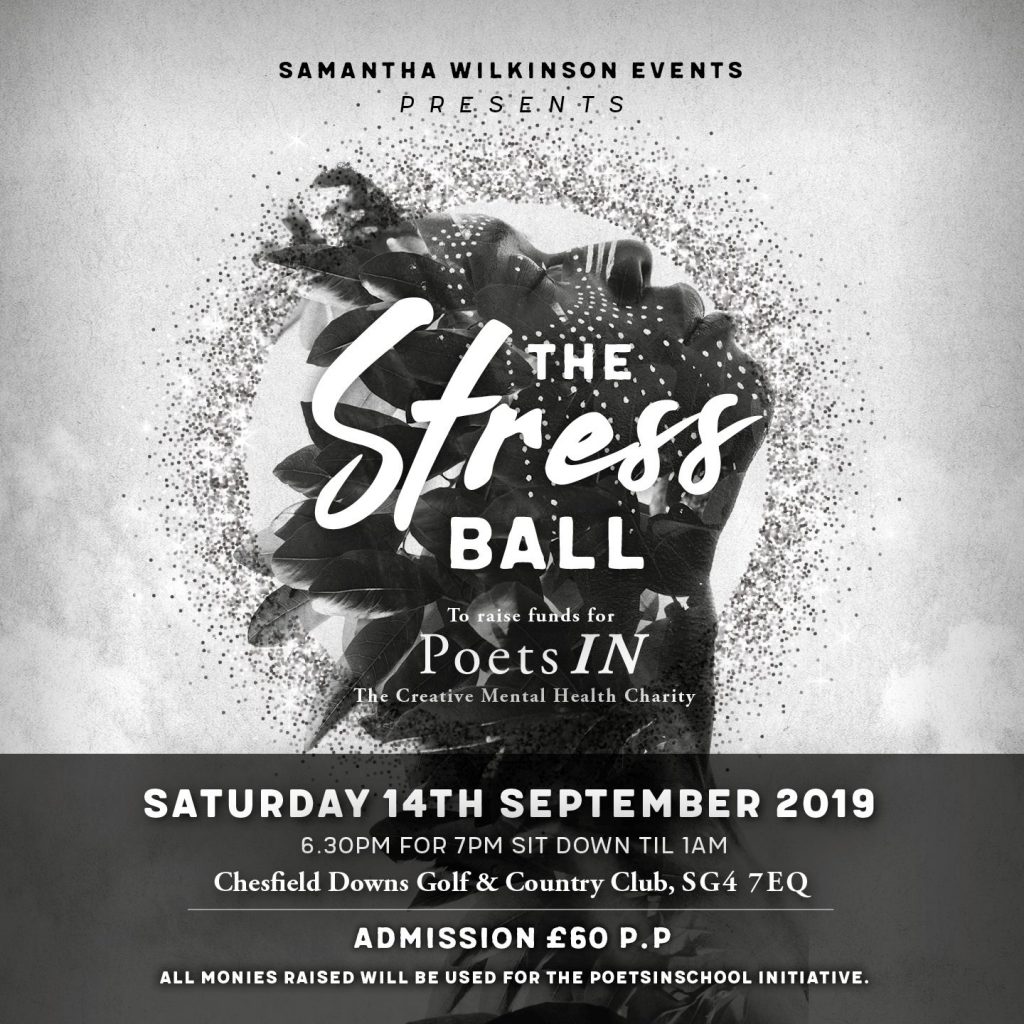 We raised over £6 and had a great night. Thank you to all those that took part and their generosity! Read more about the night via this link.
---
June 2019
Wellbeing Walk at Sandy RSPB Nature Reserve
A Wellbeing Walk at RSPB's The Lodge Nature Reserve and Gardens in Sandy, Bedfordshire for a morning of nature, words and mindfulness.
A chance to move, to stretch, to think, to pause, to immerse yourself in the sounds and beauty and nature. To come together as a community in conversation but equally to take time out for yourself.
Self-care for a Sunday morning in stunning surroundings focusing on connection – to ourselves and others and we'll invite you to harness the power of words and express yourself through a #sharetheloveletters card and to leave it for someone to find.
When you write words to lift up others, you also write them to yourself. A powerful practice.
The event was free but we welcomed donations to our charty
---
April 2019
Virgin London Marathon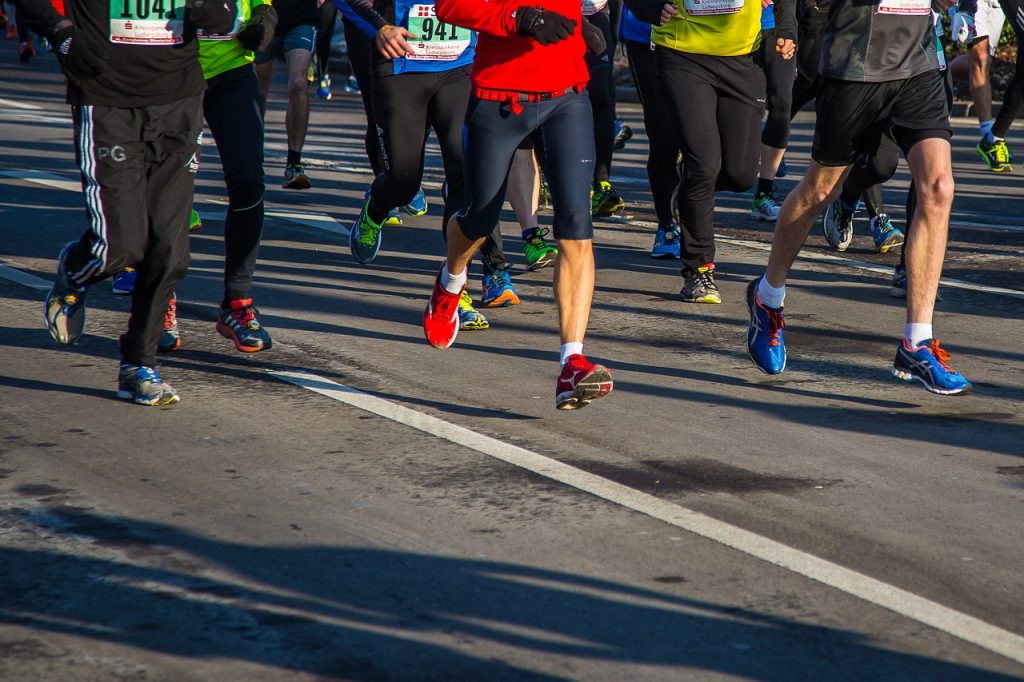 Emma Moorman was the superhero who ran to raise money for us in the London Marathon. She raised over £1700! Why not run for us next year or throughout the whole year in any running event?
---
November 2018
Art and Soul Wellbeing Day

Art and Soul was an event bringing you all things wellbeing, mental health and sustainable living. With workshops (including a PoetsIN one) and stalls to purchase items for yourself and others – profits went to PoetsIN.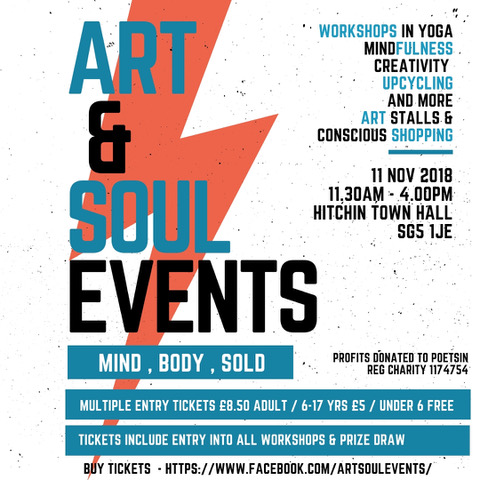 ---
July 2018
London Scrawling – Spokenword / Indie Music
We teamed up with Generation Next to bring an awesome Summer bash.
With indie music and spokenword poetry, all day fundraiser gig at legendary Nambucca in London saw some very talented people donate their time for us. If you're a poet, musician or promoter that would like to organise something similar, get in touch.
---
September 2018
Scribedive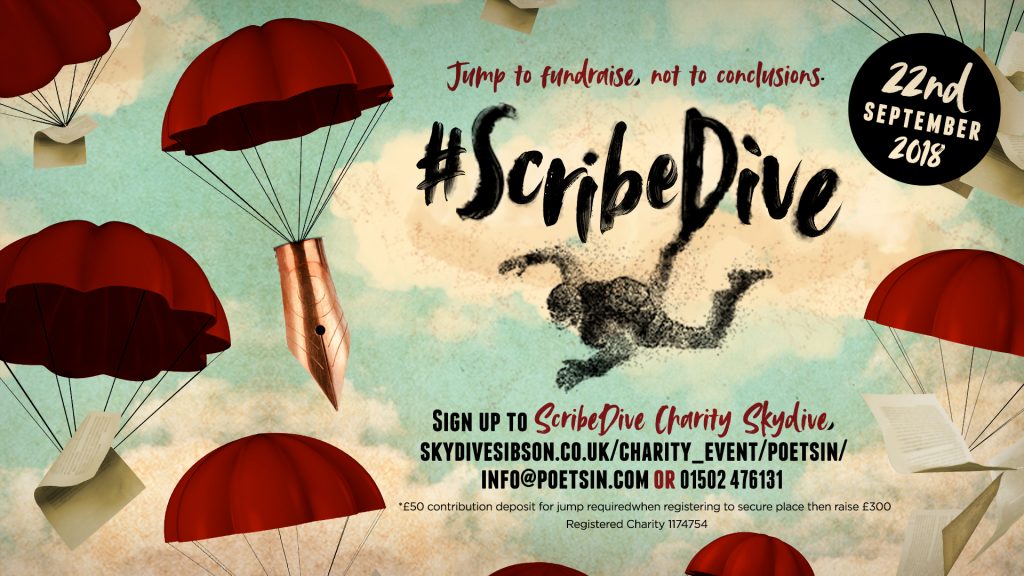 Seven wonderful, brave and crazy people came together to raise thousands for PoetsIN.
It was an amazing day where friendships were. We'd all shared something profound and are all looking forward to doing it again. And money was raised for PoetsIN. A staggering total of over £6k was raised – most of which will go towards the charity and helping people that suffer with their mental health.
Hayley, Charlie, Zoe, Nikki, Amie and Matt – THANK YOU for everything. What you did means so much and we are lucky to have such great supporters. You all rock jolly hard.