PoetsIN are always looking at ways to raise money to continue to roll out our amazing workshops to people all over the country that need it. For this reason, we have our first big fundraiser on July 28th at the legendary music venue Nambucca in London; organised by PoetsIN Ambassador Adam at Generation NeXt.
It's called London Scrawling. We'll have spoken word poetry to enjoy during the day and at night, you can rock out to some amazing bands and artists that have been kind enough to offer their services for free.
One of those artists is the very lovely and talented Lucie Barât. We talk to her here.

Who are you and what do you do?
I'm Lucie Barât and I'm a bit of an artistic Del Boy really… I'm a singer, poet, latent actress and screen writer.
Your bio says you're "a poet, and a prodigal purveyor of ballsy synth spoken word". What lit the fire inside you to channel your words in such a way?
I've always loved words. I guess they're my favoured tools for expression, I've always written since I was a kid and I've always loved reading; plays, poetry, stories… I find poignant and descriptive imagery exciting and inspiring. I'm also a bit of a geek for the beat stuff, I love rhythm and clever rhymes.
How long have you been writing poetry and music?
I used to write stories when I was very young, I'd design the book cover and even illustrate my little handmade novels 😉 I didn't start writing poetry until I was in my teens though and they naturally morphed into obvious lyrics. I liked having to work for the right succinct description to get the story across but I was pretty much told I couldn't sing at drama school… so, I was reticent to sing my creations at first. Then, because the lyrics were so personal and I had a drive to perform and express the meanings, I just thought thought 'fuck it'. I'm the best person to deliver these lyrics.
You've kindly agreed to donate your time to play at our Fundraiser on the 28th July in London. Thank you. Is mental health something you feel strongly about?
Absolutely. I think there's a huge amount still to be done to de-stigmitise mental health issues. People are still too afraid to talk about difficulties they're experiencing, accept medication or therapy or even go to their GP because of the stigma and judgment they feel they could encounter. I hope in the future we'll look back and think its as ridiculous as women not having the vote, the fact mental illness is viewed so differently to physical illness.
You're The Libertines Frontman Carl Barât's sister. Do you/have you worked together on anything?
We have a few things we're collab-ing on… I'm writing a series loosely based on our shared youth and childhood that he's going to consult on and we're writing some original tunes together for the soundtrack. It's set in London in the early naughties when we shared a flat together. I was a penniless drama school graduate and he was starting out with The Libertines…
We think your songs are damn catchy, please describe your song writing process.
Thank you very much! Well, I guess I always have a stack of lyrics. I'm always scribbling in one of several grubby notebooks. Sometimes I come up with a topline melody and sing it into my phone, or a bass line… so I've always got various limbs of songs on the go that I stitch together.
I personally write my best stuff when in a rage, heartbroken or fighting depression. Are you affected in similar ways and do you use writing as a venting mechanism?
Well, obviously having something to say, wanting to be understood or just expressing yourself are all powerful stimulus but sometimes I just like exploring snippets of life in more of a social commentary kind of way. I guess that's a good sign for my current mental state 😉
If you had the chance to play one track or recite one poem to sum you up, which is it? (I'll embed it in the article or if it's a poem, please send it)
That's unreasonably difficult… Not because I'm such a complex character 😉 but because I'm terrible at these kinds of questions. Today, I'd say; The Touch by Ann Sexton.
THE TOUCH by Ann Sexton

For months my hand had been sealed off
in a tin box. Nothing was there but subway railings.
Perhaps it is bruised, I thought,
and that is why they have locked it up.
But when I looked in it lay there quietly.
You could tell tie by this, I thought,
like a clock, by its five knuckles
and the thin underground veins.
It lay there like an unconscious woman
fed by tubes she knew not of.

The hand had collapsed,
a small wood pigeon
that had gone into seclusion.
I turned it over and the palm was old,
its lines traced like fine needlepoint
and stitched up into the fingers.
It was fat and soft and blind in places.
Nothing but vulnerable.

And all this is metaphor.
An ordinary hand — just lonely
for something to touch
that touches back.

The dog won't do it.
Her tail wags in the swamp for a frog.
I'm not better than a case of dog food.
She owns her own hunger.
My sisters won't do it.
They live in school except for buttons
and tears running down like lemonade.
My father won't do it.
He comes with the house and even at night
he lives in a machine made by my mother
and well oiled by his job, his job.

The trouble is
that I'd let my gestures freeze.
The trouble was not
in the kitchen or the tulips
but only in my head, my head.

Then all this became history.
Your hand found mine.
Life rushed to my fingers like a blood clot.
Oh, my carpenter,
the fingers are rebuilt.
They dance with yours.
They dance in the attic and in Vienna.
My hand is alive all over America.
Not even death will stop it,
death shedding her blood.
Nothing will stop it, for this is the kingdom
and the kingdom come.
If you could collaborate with anyone out there on a song, who would it be and why?
I'd love to duet with Patti Smith… who wouldn't? Also Loyle Carner… Or Jordan Stephens, in any one of his guises. They are both incredibly talented wordsmiths and I like what they have to say.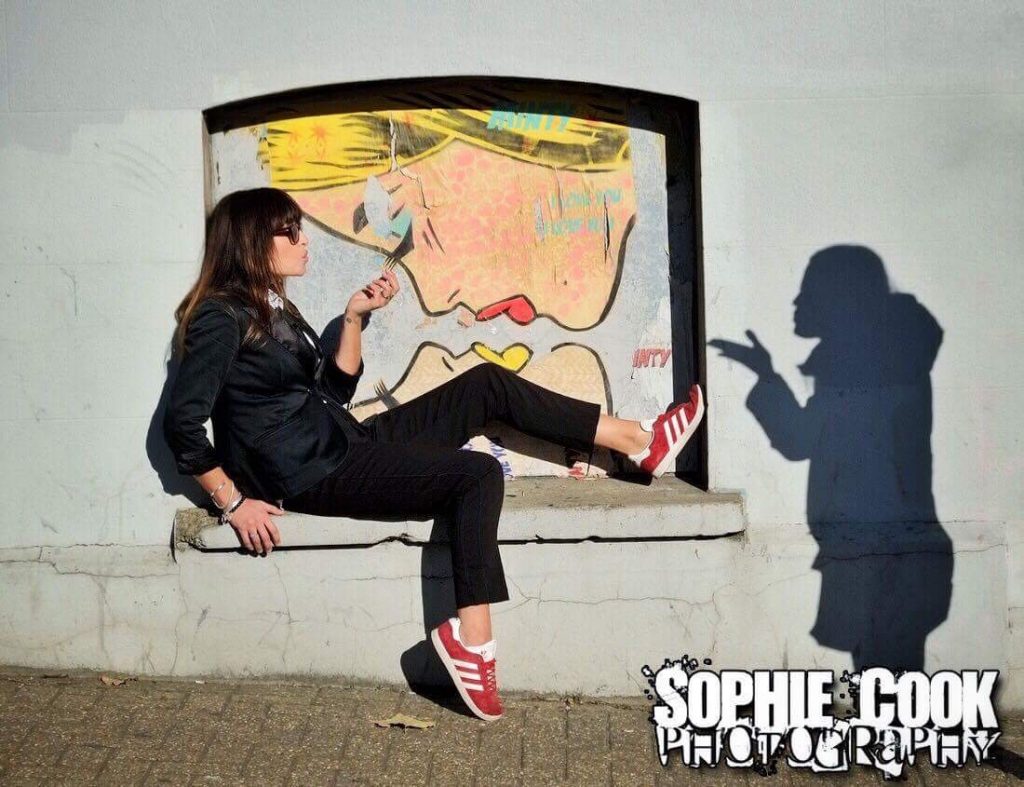 Your music has spoken word and singing over very catchy synth. What are your influences, heroes and villains both musically and lyrically?
I love Gil Scott Heron and Tracy Chapman for their story telling and I used to listen to Eminem relentlessly. He's vocabulary is insane…
What quote/song/poem inspires you the most and why?
So many songs, quotes and poems have inspired me… Sometimes even just a line or clever turn of phrase.
Writer's block, is it real or a myth?
I know people who defiantly suffer but I generally wont try to write songs unless I'm inspired. But when I do write, I almost write a stockpile of stuff! So, maybe that's cheating??
Finish this sentence… Words and music are the epitomes of…
Civilization.
Aside from Namcucca on the 28th July, what's next Lucie?
Some ridiculously exciting news that I can't share just yet… And lots of festivals. I've been rehearsing up a new backing band with a shift in sound so I'm excited to get out and play.
Thanks to Lucie for the interview, and even more so, for being kind and generous enough to play at PoetsIN London Scrawling fundraiser on the 28th July at Nambucca.
You can get your tickets now for only a fiver through this link to Ticketmaster.
Below are the words to one of Lucie's tunes with a link to Spotify. Go listen, sing and follow her as well as check out and link up on her social media.
ALL THE KING'S HORSES

V1

Take my words

they don't mean to offend you,

I've watched from back here

as people have lent you

everything you ever wanted

but no one was dealing

in what you were needing

But would you have heeded them?

my long lost friend,

you'd rather falter

than hear the tears

or see the scars from all the battles, when

They left their marks all up your arm…

Chorus

All the King's horses

they couldn't mend you

All the King's men

they couldn't defend you

You lost yourself

I can't find you

You lost yourself

I couldn't remind you,

We slip and we stall

We dip and we soar

All the king's horses

For all the King's horse

All the King's horses…

V2

Take my words

They're meant to cover you

I've watched from back here

As they tried to smother you

You pushed me back

for the fools at your feet

but because of them

you're back on your knees

Because you only heeded them

Seduced by pinned grins and deadened eyes,

they gave you every 'yes' you ever needed to rise

All the King's horses

they couldn't mend you

All the King's men

they couldn't defend you

You lost yourself

I can't find you

You lost yourself

I couldn't remind you

We slip and we stall

We dip and we soar

All the king's horses

For all the King's horse

All the King's horses…

Mid 8…..

You meant well, through the blurred words

beer tinged spittle turned to disturbed verbs,

whittled down, misread.

Meanwhile, the adoring adored

but your spirit nagged

beneath the gilded crown upon your unwashed head,

Caught a vein on a needle

A life on a thread.

But you said,

through the stirred words,

they took your pain

made the stain worse

but the adoring adore

So you pick yourself up;

a refrain from the floor,

Kept you reaching for more…

Then you were gone

and my eyes bled

All the King's horses

they couldn't mend you

All the King's men

they couldn't defend you

You've lost yourself

I can't find you

You lost yourself

I couldn't remind you

We slip and we stall

We dip and we soar

All the king's horses

For all the King's horse

All the King's horses…
Social Media Links to follow Lucie on…
Insta     @lucie_barat_
twitter   @Lucie_Barat
Spotify  https://open.spotify.com/artist/0sFvEOf4cTxE9jKQpkKUzK
Please follow and like us: