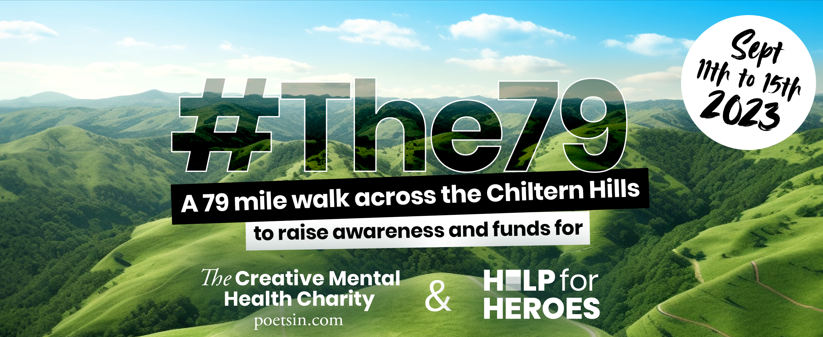 #The79 – September 11th to 15th
We're approaching our sixth birthday as a charity, and in that time, we have saved and changed countless lives. We did this by holding space for people when they needed it and teaching ways to manage and navigate dark times through the power of words, both written and spoken.
Everything we do ensures that people of all ages have access to support and tools that keep them empowered to maintain their wellbeing.
We turn no one away – something we strived to always do in an era when waiting times for support are lengthening. We're so proud of that.
Sammie and I always wanted to be the people we didn't know we needed when we were battling undiagnosed illnesses, traumas and disorders. Our charity does that.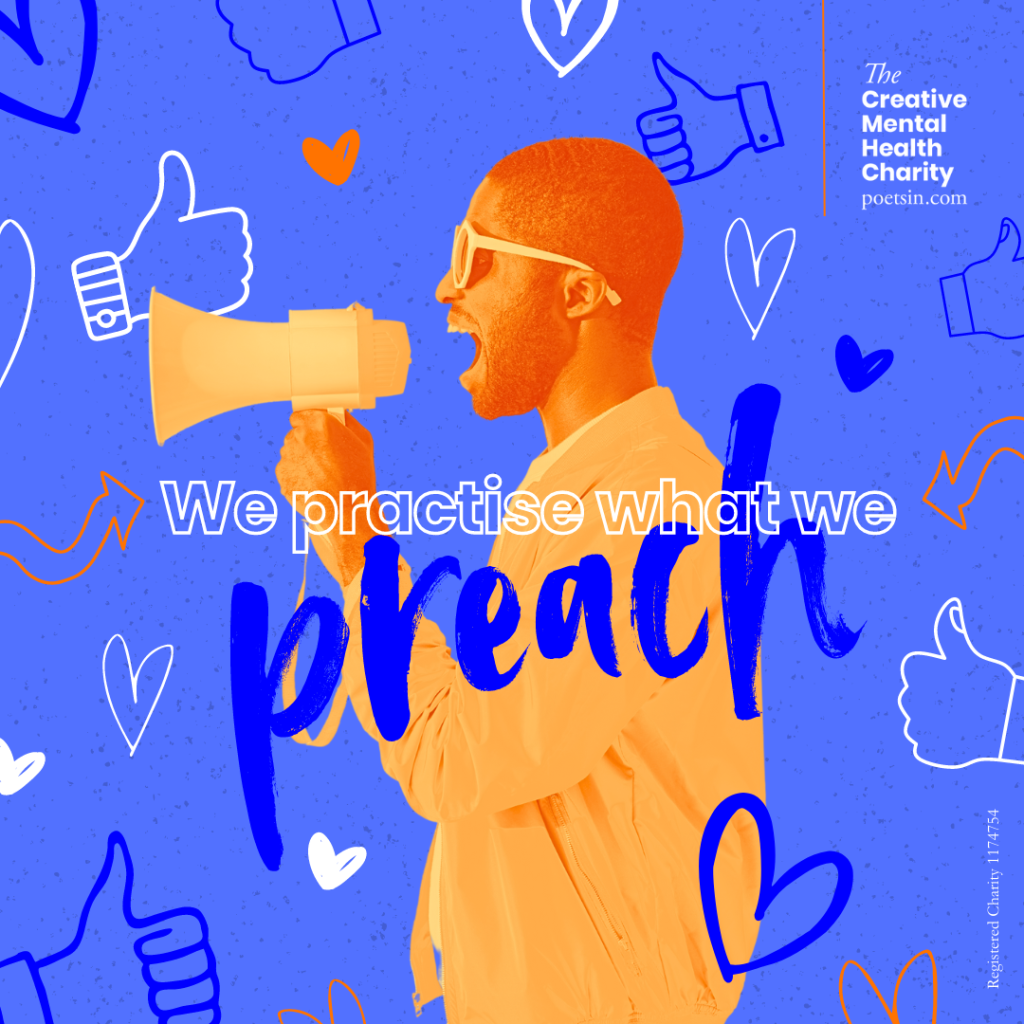 I've been wanting to do some sort of challenge for some time now – I just couldn't decide on what. It needed to be big enough to, well, challenge me. It needed to be active and outside but not cliched.
Ideally it would raise money for the creative mental health charity I co-founded with Sammie – PoetsIN – but knowing things are a tad tight for us in this cost of living crisis, if all we do is raise awareness – then that's a win.
The more people know about us, know they have somewhere to turn with the great work we do, the better.
I love walking, so it made sense to go on a massive walk – massive for me, at least – as my challenge.
My fascination with grand, cross-country walks began when I read the epic quests of Hobbits and Elves in Tolkien tomes and then later, when I read The Talisman by Stephen King and Peter Straub as a teenager. These books were originally a way for me to conquer my stutter by learning a wider range of words and letters to avoid the lexicological minefields inherent in sentences; this ultimately led to me writing to manage my wellbeing from an early age: poems, fiction, comics, letters.
Those epic stories really touched me. They became an escape into other worlds, a doorway from the world I was unhappy in to ones of unlimited potential.
With The Talisman, when I met Jack Sawyer within the pages of that book – who wasn't far off my age at the time – he resonated with me. In the story, he walked and walked and flitted between other, magical worlds and the one we know (via a potion in a bottle); and my god, did I want to be Jack.
I clearly looked in the wrong bottles for ways to escape, which led to the drink and drugs addictions that I had no idea at the time were masking my mental illnesses – all of which changed.
And now, walks help me escape, literally taking me to other places while my mind can wander and sort and sift. The thrill I feel in my stomach when I see a new sign for a public footpath is huge, the untold stories down that path; and the adventures there could be – which may only be a red kite flying overhead or a beautiful river, but adventures nonetheless.
Short or long, a walk is a great way to get your thoughts thunk and your mental filing done. It's proven to help with your mental health and the more you do, the better it is for your physical health.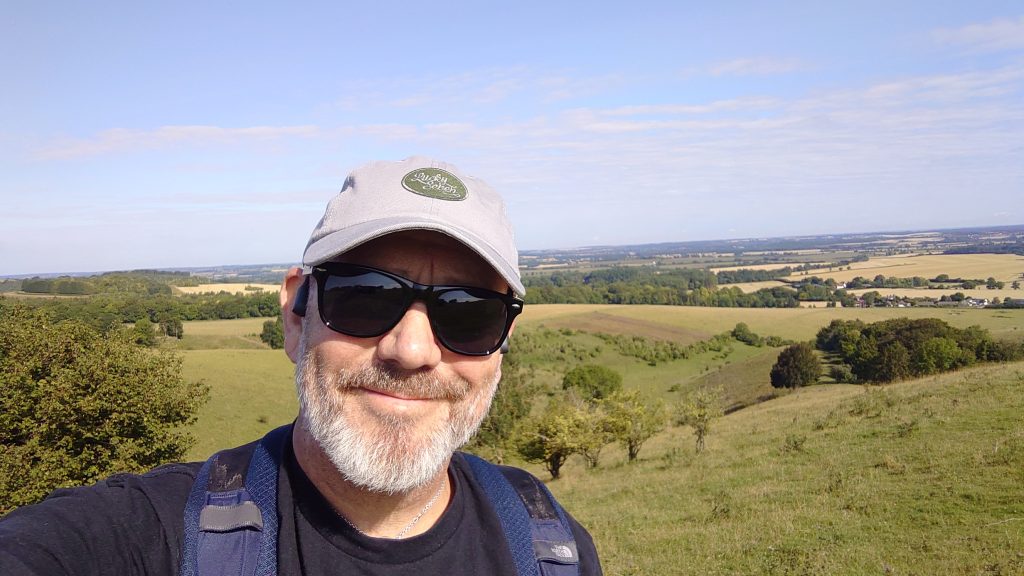 We've been involved with a lot of suicide awareness and suicide prevention organisations recently, and ultimately, the support and the tools we teach through our programme at PoetsIN are so that people can manage their wellbeing better. I've lost too many people in the past to suicide.
And I get it. I've been there and felt like things are so bad there was no point carrying on. I have my demons and they almost won, when I was in such a dark place and felt such a burden.
I chose instead to end my life as it was. I reached out, got help and began my mental health journey.
Therefore, when I saw that by the end of 2022, 79 men a week in England were taking their own lives – 100 with women's stats as well – I saw what I could do it for. Suicide Awareness. 79 miles.
I'm not an athlete and have had back problems for over 30 years, so 79 miles is a huge challenge for me. I wish I could do 100 miles, but I may genuinely injure myself doing that.
The location has meaning. There's a place in the Chiltern Hills that is local to me – a magical and ancient feeling place – where I go to for my wellbeing. It's called Pegsdon Hills.
I have decided that is where my walk will begin and end, where I will set out on a big adventure, like Jack Sawyer on an epic quest (only mine is over 5 days) to open up conversation about mental health.
I will go live on the walks, maybe show some of our tools, and share the experience as much as possible while raising funds.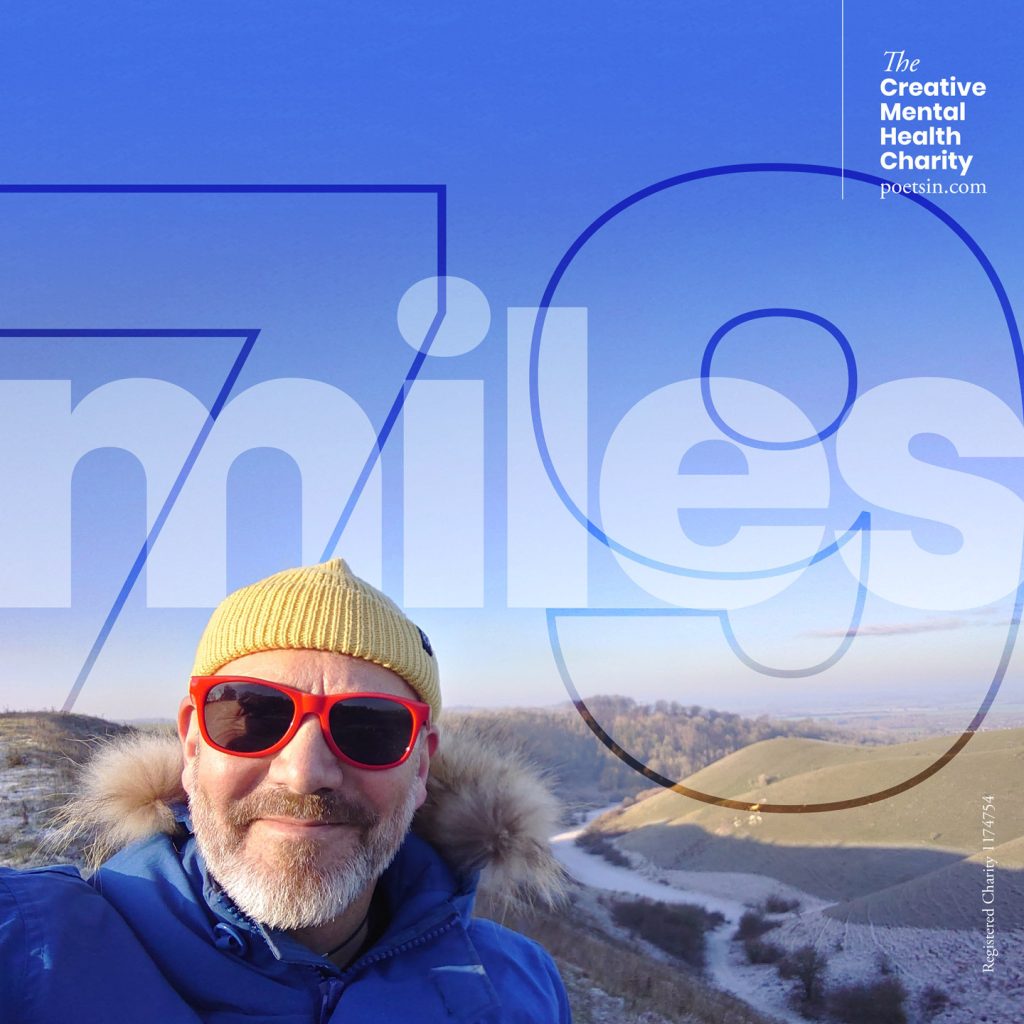 Since I initially decided to do this as a solo venture, a few close friends have joined the posse.
There are currently 5 of us (Greg, Lorrain, Jasmine, Naomi and Stanley the dog), and everyone and anyone is welcome to join us. Virtually or in real life, we will be starting at 9am each day and finishing whenever. You can join us each morning or we'll let people know where we'll be stopping at lunchtime.
Locations and times are below, but we ask that people look after the food and hydration part – they are very welcome to come, walk, chat and share stories. It's what we all need to do so much more of.
Because with wellbeing, the bridge between being in a bad place and being on the road to recovery is communication. We all need to reach out. The more we do and we talk, the more we realise we are not alone.
So let's walk. Let's talk. Let's raise money if we can and awareness around mental health, suicide and, of course, The Creative Mental Health Charity PoetsIN.
Thank you all in advance.
The #79 Route
Day 1: 11th September
Start – Pegsden Hills, Hitchin 9:00am
Finish – Church of St Nicholas, Harpenden
Distance: Moderate 16.6 miles

Day 2: 12th September
Start – The Old Cock Inn, Church of St Nicholas, Harpenden 9:00am
Finish – Boxmoor Lodge, Box Lane, Hemel Hempstead
Distance: High/moderate 17.4 miles

Day 3: 13th September
Start – Boxmoor Lodge, Box Lane, Hemel Hempstead 9:00am
Finish – Tring Memorial Gardens
Distance: Low 13.3 miles

Day 4: 14th September
Start – Tring Memorial Gardens 9:00am
Finish – Redwings Lodge, Hockliffe, Dunstable
Distance: High 18.9 miles

Day 5: 15th September
Start – Redwings Lodge, Hockliffe, Dunstable 9:00am
Finish – Pegsden Hills HURRAH!
Distance: Low 12.8 miles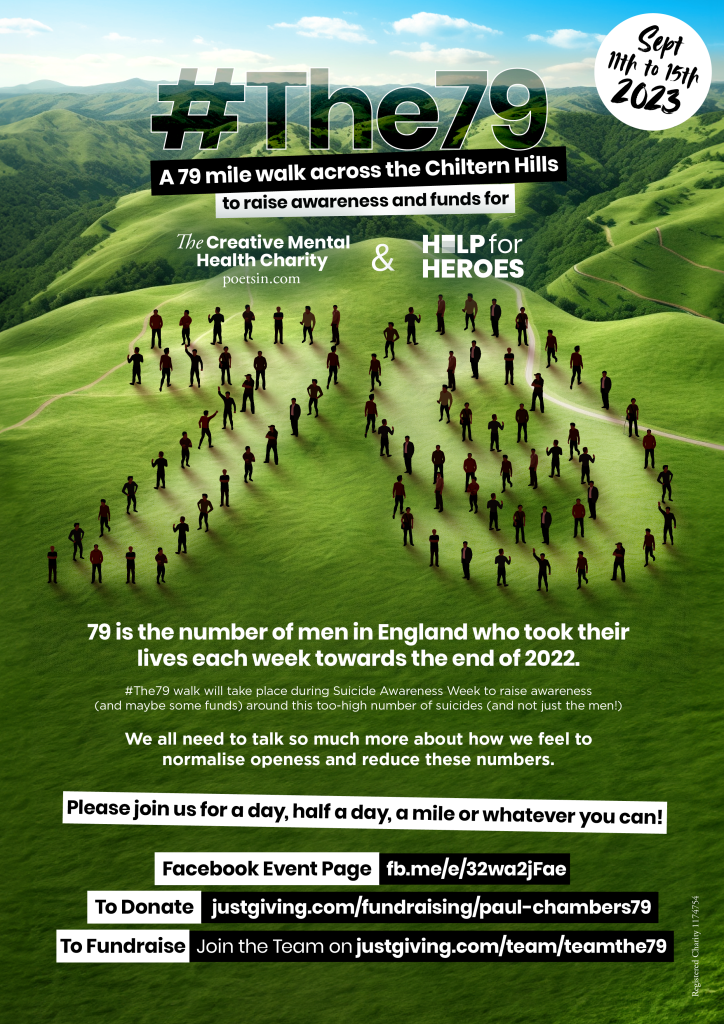 Remember: There is no shame in struggle. If you are struggling, you can contact us here.
Please follow and like us: