Everyone has a story to tell; each one of us a writer of poetry – some, without even realising. That stream of consciousness that runs in our veins? It's poetry waiting to be written. We believe in the power of words, and that power is what urged us set up PoetsIN.
It's because of those inner streams, that we bring you this regular interview feature, Writer Profiles. An interview with a writer. Some you'll know, some you won't.
This week it's someone who has become a solid friend of the charity, after donating his time to not only preform at our July fundraiser in London; but also to be kind enough to compere half of the whole thing.
He's an absolute smasher. His name is Lewis Harlock.
Sit back with a load of seitan from the pits of Hull and read this week's writer profile.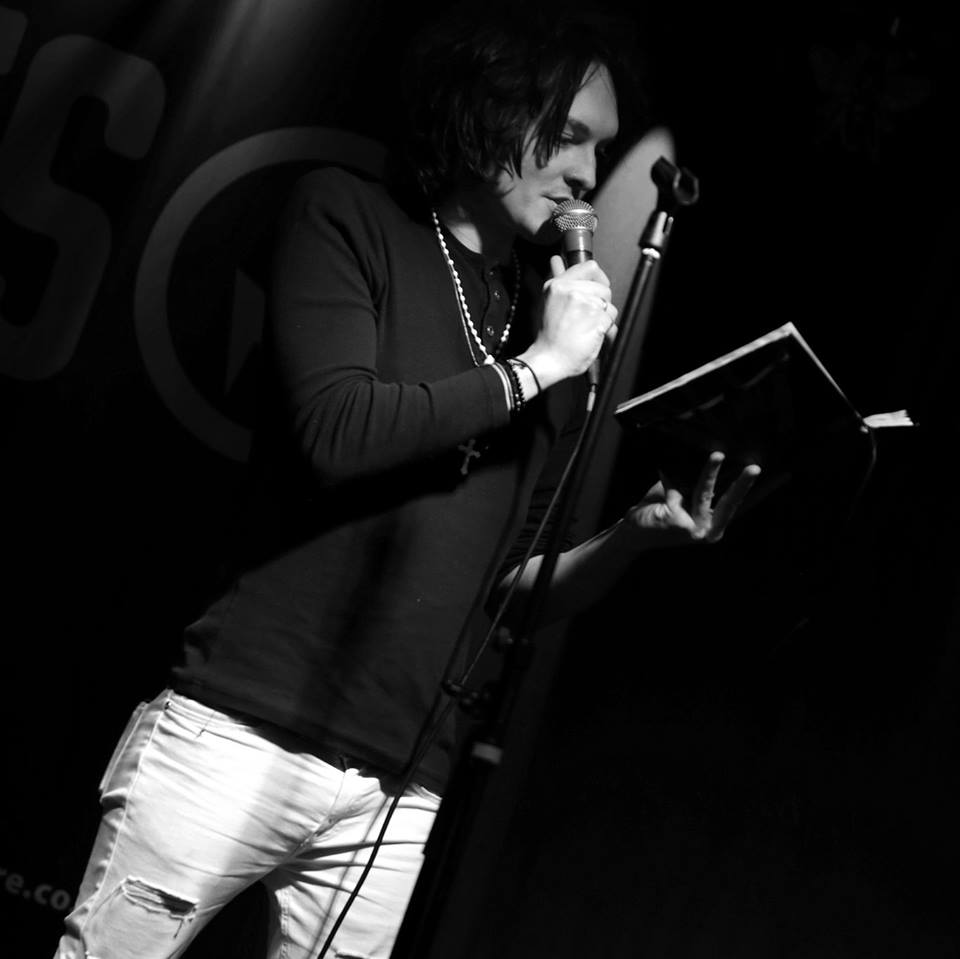 Who are you and what do you do?
I'm Lewis Harlock and I am a poet, comedian, and writer originally from Peterborough and now based in Manchester.
How would you label your music/spoken word poetry if forced to label it?
I am, depending who you ask; a stand-up comedian who does poems, or a poet who does stand up in between his poems. (If you ask other people they might describe me with a lot more expletives). I don't personally differentiate between the two and see myself as a performer.
What is your relationship with words and how has that evolved over time?
I've always loved words and grew up reading and writing and doing very little else, my current physical deterioration suggests I probably should have played a bit of football now and then. My relationship with words has evolved from writing bad teenage poetry, through to writing songs in my unsuccessful years spent trying to be a musician, to where I am now; working on scripts, poems, stand-up routines and longer form pieces of prose.
How long have you been writing and performing?
I've been writing poems and short stories and sketches as long as I can remember and was performing in bands from the age of about 12 or 13 up until early 2016 when the last of these groups fizzled into nothing. I started performing poetry after working on a short film with Mark Grist (Terry & Tiara) in August 2016, and haven't looked back since. Having spent years writing poetry locked up in my garret/student house while drinking red wine, I suddenly realised there was a way I could be out performing things I'd written and getting instant feedback as well as meeting other likeminded people, and getting to see all sorts of performers.
You kindly donated your time to our Fundraiser in July. Is mental health something you feel strongly about?
It is, I've suffered with severe depression for several years and spent long periods of time in slumps of despair, not leaving the house or speaking to anyone, just drinking until the day was over. If I'd been aware of charities such as PoetsIN during my lost years it would have been exactly the sort of institution I would have looked to for help and support. I didn't know of anything like this, so suffered alone, which is why giving up my time to raise awareness of charities such as these is important to me. Whilst I still suffer with depression I have managed, through performing and writing to give myself purpose and force myself out of my slump.
Please describe your poetry writing process.
A process implies a lot more discipline than I actually have.  A few good tips I have are;
– write down every little idea or phrase you want to do something with. Either on a note on your phone, or in a notebook or on the back of a fag packet. If something comes to me when I'm on the bus I don't want to forget it, and then if I'm stuck for ideas another time but need to write something for whatever reason I can open the note file/look through the note book/read the back of the fag packet and see ideas I've probably forgotten and try to do something with them.
– Just write. For five minutes or so, with no prompt or idea. Just start writing and don't stop till your times up. If you're stuck write the last word you wrote over and over until you can move on. What will be there at the end of the time won't be good, but there might be a little nugget among the mess you could do something with.
– . Walk to town without headphones on, just be part of the world. Focus on your breathing and let your thoughts just wash around you. Freeing yourself from any focus is cool, and gives you clarity. That's not just beneficial to writing, but to letting go of stress and allowing yourself to live a more peaceful life. Which in turn can help you to write better.
– Share it, speak to over people, show them what you're up to, take criticism and learn from it.
Some of us write our best stuff when in a rage, heartbroken or fighting depression. Are you affected in similar ways and do you use writing as a venting mechanism?
One hundred percent. If I couldn't sit and write when upset or heartbroken I don't know what I'd do. Losing myself in a scrawling venting session allows me to detach myself from whatever is upsetting me. I'm not sure that's how I write my best stuff, but it's certainly how I write the most stuff. Editing in a rage is less easy/productive.
You have to choose one poem or song to be remembered by. What is it and why?
I'd hope I've not written it yet.
If you could collaborate with anyone out there (alive or dead), who would it be and why?
Phillip Larkin, because I think he has an unparalleled ability to write about the human experience with such clarity and heart-breaking accuracy.
Rik Mayall, because I think he was a genius, able to make the most puerile humour a form of high art, and high art a form of puerile humour.
Who are your writing influences, heroes and villains poetically, musically and/or lyrically?
Rik Mayall, Stewart Lee, John Cooper Clarke, Larkin, T.S Eliot are all influences to me. Morrissey is both a hero and a villain. The Smiths made me realise poetry doesn't have to be confined to scholars, that there's beauty in all the world, that you can be clever and funny. But he's a bit of a (read: massive) tit, these days too. Every time he gives an interview he ruins the Morrissey I grew up loving a bit more.
What quote/song/poem inspires you the most and why?
The aforementioned hero/tit Morrissey, singing on The Smiths Rubber Ring:
But don't forget the songs

That made you cry

And the songs that saved your life

Yes, you're older now

And you're a clever swine

But they were the only ones

Whoever stood by you
I think that sums up the power words can have more than anything I could write to explain its meaning to me.
Writer's block, is it real or a myth?
Real. 100%. And it's the worst. But it passes. Sometimes you just have to take a break from things.
Finish this sentence… Words and music are the epitomes of…
The human experience.
What's next for you?
I'm performing my Greater Manchester Fringe show Neurotica in Peterborough on the 12th September (click here for tickets) and will hopefully be adding more dates across the country soon. I'm working on a collection of short stories based around food, and I'm writing some short plays for a potential production in the new year. My main focus at the moment is performing Neurotica as often as possible, but I like to keep myself busy too.
Thanks again to Lewis for donating his time to our Fundraiser, but also to answering our questions here as well. He really does rock. You can find him on Facebook at http://facebook.com/lewisharlock
And on Twitter he is  http://twitter.com/tweetinglewis
If you, too, are a writer and like what we do at PoetsIN, then get in touch to talk to us about being interviewed yourself. Drop us an email on paul@poetsin.com
Please follow and like us: