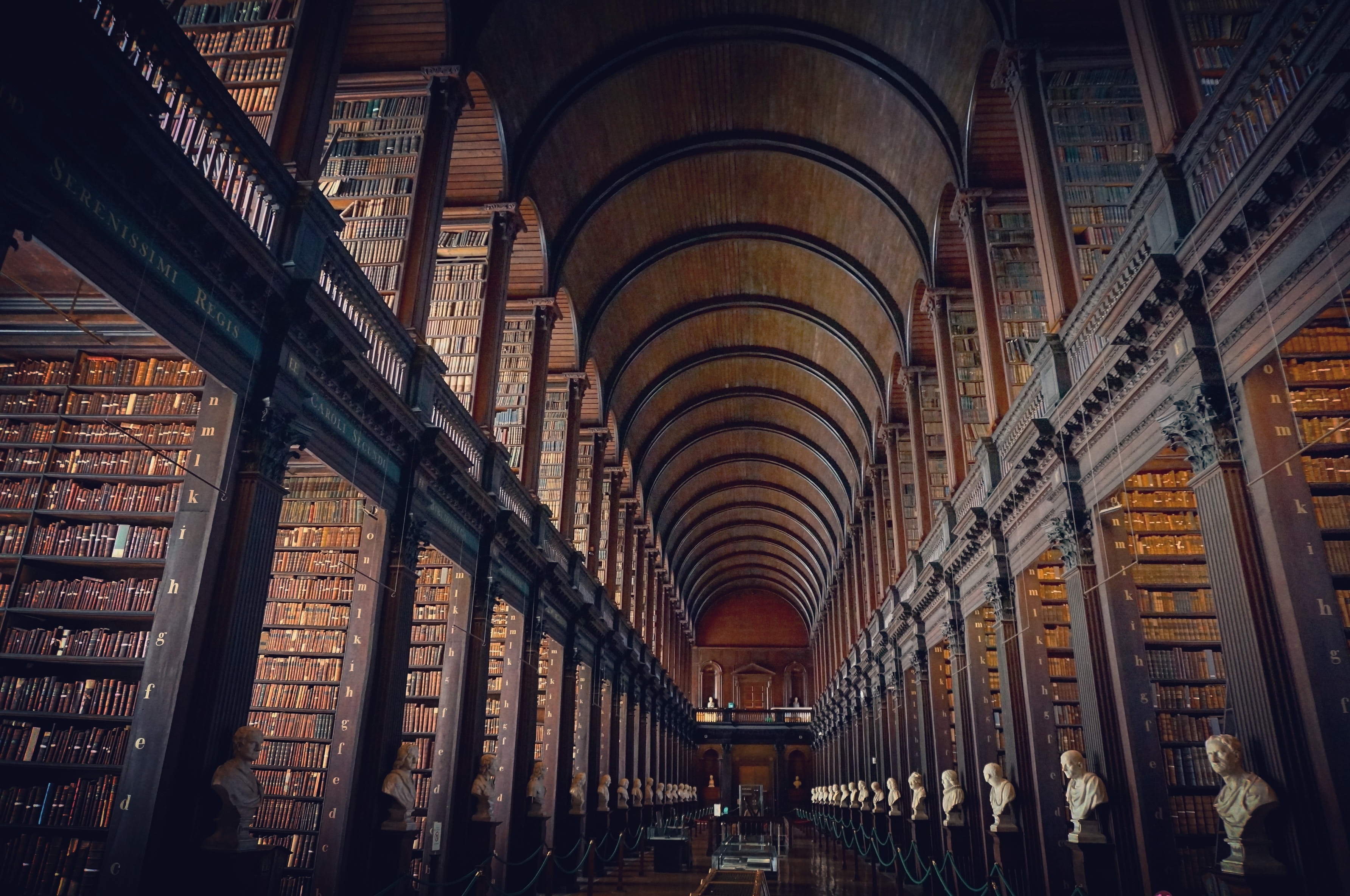 Library porn is most definitely a thing. A very real thing experienced by bibliophiles.
Show me a bibliophile that doesn't drool over a beautiful building stuffed with paper and ancient tomes, and we'll show you a fake (or possibly someone allergic to paper).
We thought it was time we got naughty and lingered lasciviously over lots and lots of libraries lined up. Be prepared to drool as we look at ten of the world's stunning libraries
Strahov Monastery Library
In Czech this is called the Strahovský klášter, and is the beautiful library housed in a Premonstratensian abbey that was founded in 1143 by Bishop Jindřich Zdík, Bishop John of Prague, and Duke Vladislav II. As the name would suggest, it's located in Strahov, Prague, in the Czech Republic.
The Vatican Library
Latin: Bibliotheca Apostolica Vaticana) is the library of the Holy See, located in Vatican City. Although much older, it was formally established in 1475. It's one of the oldest libraries in the world and boasts one of the biggest collections of historical texts. It currently has 75,000 codices from throughout history, as well as over a million printed books. In addition, The Vatican Secret Archives were separated from the library at the beginning of the 17th century; and contain another 150,000 items.
Panorama House Library
Architect Moon Hoon designed the private house, in Chungcheongbuk-do, South Korea. A playful house overall, with one of the best features (we think) being incorporated into the home is a wooden slide built directly into a library. This doubles as a stair-stepped home theatre seating area. Children and adults alike love this, or crave it. We know we do.
The Library of El Escorial
Spain is located in the Royal Seat of San Lorenzo de El Escorial, the historical residence of the king of Spain. Phillip II was responsible for adding the library and most of the books originally held within. The vaulted ceilings were painted with gorgeous frescoes, each representing one of the seven liberal arts: rhetoric, dialectic, music, grammar, arithmetic, geometry and astronomy. These days, the library is a World Heritage Site, and it holds more than 40,000 volumes.
The Library in The House on the Rock
Originally opened in 1959, the house is a complex of architecturally unique rooms, streets, gardens and shops designed by Alex Jordan, Jr. It is located north of Dodgeville, a city in Iowa County, south of Spring Green, Wisconsin and is a regional tourist attraction.
The Walker Library of the History of Human Imagination
This Jay Walker's private library and collection of artistic, scientific and historical artefacts. The Library was founded and is owned by Jay Walker. The 3,600 square foot facility is a wing of Walker's home in Ridgefield, Connecticut. It contains about 30,000 books as well as maps, charts, artworks and a wide variety of museum-level artefacts.
Le Cabinet de livres Chantilly
This is the legacy of The Duke of Aumale, who was a passionate bibliophile that devoted his entire life to his two passions: his love of books and fine art. In 1848 he started a remarkable collection of paintings, drawings and, above all, books. In a letter to a friend he admits: "I think I'm suffering from bibliomania!". The reading room was designed by architect Honoré Daumet at the end of the 19th century to house the Duke's rare book collection.
Home library of Nigella Lawson
The beautiful domestic goddess and famous British cook Nigella Lawson housed this stunning library in her Belgravia home. It held over 6000 cookery books in floor to ceiling shelves – including her personal favourite Anna del Conte's Entertaining all'Italiana. She is pictured here with later additions to her collection piled up around her desk.
The Beinecke Rare Book & Manuscript Library
A rare book library and literary archive of the Yale University Library in New Haven, Connecticut. Situated on Yale University's Hewitt Quadrangle; this building was designed by Gordon Bunshaft of Skidmore, Owings & Merrill and completed in 1963. Established by a gift of the Beinecke family and given its own endowment, the library is financially independent from the university and is co-governed by the University Library and Yale Corporation.
The Cuypers Library
Based in the Rijksmuseum, this is the biggest and oldest historical art library in the Netherlands. After a recent ten year-renovation, it has been brought back to its original state: just as Cuypers had in mind. Said to be 'jaw-droppingly' beautiful yet serene, it is open to the public. Even iPads are available to those wishing to study there.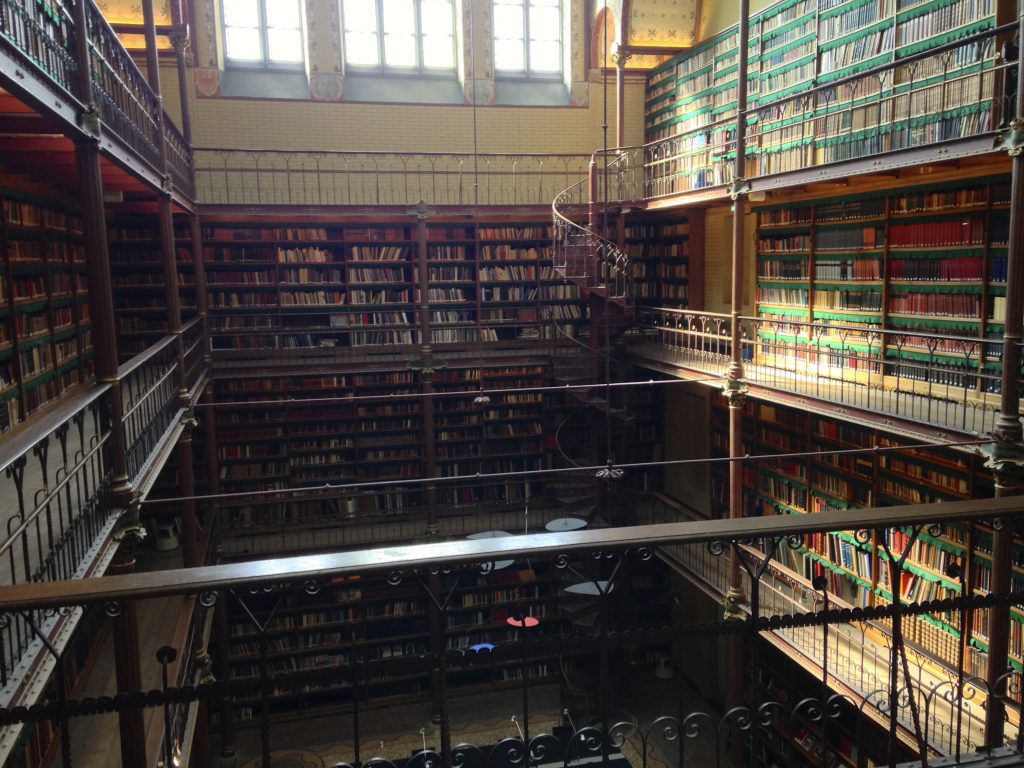 So tell us. How was that for you? If you liked that, then you're a lucky sausage, as there's plenty more where they came from. The World is a big place and fortunately, it has plenty of beautiful libraries packed with delicious books. Watch this space for more library porn.
Please follow and like us: