PoetsIN prides itself on being a place where we can learn from and guide one another through our mental health struggles, often through a combination of candor and creativity.
One of our supporters and friends embracing both these elements on his journey is Sean Houlihan, better known to us as Bear. For those of you unaware of Bear, he is currently undergoing what he refers to as his '4 Years of Intention', time to develop an understanding of who he is and to express this through an initiative titled Bear Intentions.
We caught up with Bear to find out more about his story, his year-long vow of silence and the impact his 4 Years of Intention is having on his mental health.
POETS IN: Tell us about the thinking behind Bear Intentions.
BEAR: The wordplay and meaning behind Bear Intentions is something I enjoy toying with. It keeps my mind positive and acts as a kind of signpost for me to keep creating and challenging myself. Sure, I share videos of myself on social media working out, dancing, taking cold baths in rivers and writing up insights on my chalkboard. Some people may just see a grown man covered in tattoos who has elected not to speak for a year, but most will be unaware of why I've created Bear Intentions and the reasons for taking myself through The 4 Years of Intention.
My father was a convicted sex offender. Specifically, he targeted underaged children. It was for this reason that from the age of three I was left without a dad. I spent a long time in the dark as to why I couldn't see him, making me an easy target for bullying at school. I was legally allowed to meet him when I turned 18 (in 2008) but I wasn't ready to meet him then, so I met him a year later, aged 19 and largely unaware of his mental illness. It wasn't until I turned 20 that I found out he had a handful of cases of sexual abuse of minors.
I was at university in Brighton at the time and the news hit me extremely hard. I had only met him a year prior to finding out the news and was just beginning to form a father-son relationship. It caught me off-guard but I didn't realise how much this affected me until many years later. I didn't know who to talk to so I put my hood up, smoked tons of weed and became a gym addict. I was also struggling with my own sexuality at the time and was addicted to pornography.
How did this impact your mental health?
Internally, I was a wreck; on the outside, solid. But the fake veneer I was presenting to the world was exhausting to uphold. In my early twenties I began a downward spiral, suffering with depression and anxiety, unable to speak up and speak out about the issues I was dealing with because I didn't know what it meant to be vulnerable.
I spent a good eight years wrestling with my own mental illness. Although during that time I had developed into a holistic coach; providing personal training, teaching yoga and meditation, and working as a massage therapist across the UK, Europe, South East Asia and Australia. I was successful but I was struggling with this inner turmoil. I still didn't know how to express myself and what I was going through on the inside, or how to share that with anyone else.
Were there any specific issues?
There are still personal matters and trauma that I'm not prepared to share with the world (nor do I feel the need to) but one of the main issues I had yet to lay to rest was that of accepting my own masculinity, or lack thereof. I didn't know how to be a man. I didn't know what the difference was between the boy I felt was trapped inside me and the man I felt I was expected to be by the world outside. I associated masculinity to being a particular shape and size, able to lift a certain amount of weight. These were essentially the benchmarks of men's health and of the wellbeing industry in which I worked.
To be blunt, I hated my dad for who he was and what he did. I was ashamed to be his son. I hated myself. I would feed into this self-loathing by punishing myself in the gym and attached my self-worth to my appearance. I took steroids multiple times which further destroyed my endocrine system, throwing my hormones out of whack, which exacerbated my depression. It wasn't until I turned 29 that I saw the effect my mental health was having on my behaviour, repeatedly burning myself out and reinforcing this idea and belief that I wasn't man enough – not knowing what 'enough' meant or felt like.
Were you able to make any changes to enable you to cope?
In November 2019 I was fortunate enough to have the opportunity of holding an Exercise Addiction and Muscle Dysmorphia workshop at The International Body Dysmorphic Disorder Conference at Imperial College, London.
It coincided with a new series of psychotherapeutic treatments and gave me access to circles where I could open up about personal struggles, my sexuality and mental illness. Up until that point I hadn't really shared any of it with anyone, except maybe a couple of close friends. The therapy and the groups I was engaging in, combined with my own professional work as a holistic coach, meant I began to see a clear pattern emerge: boundaries that are broken will lead to further breaking of boundaries. I don't mean this in the sense that records are broken or obstacles overcome. I mean it in the sense that traumatised people are often unable to maintain clear and healthy boundaries, pushing through one and onto the next.
I saw this in my dad, I saw it in myself and I heard countless stories of people struggling to love themselves. One of the effects of trauma is that it causes the individual to unintentionally ignore particular feelings as a default safety mechanism. But unfortunately for me, that mechanism isn't helpful for someone with exercise addiction, especially when the only way to feel anything is when they're broke and burned out, injured or sick.
This initiative introduces time for reflection. What have you learned?
Something had to change for me. I recognised that as a man I have a responsibility to not only express myself and be vulnerable, but to develop myself into an adult with clear and healthy boundaries. Who I am within my community and how I share myself with the world isn't learned through the eyes of others. I realised I need to cultivate a relationship with myself, my mind and my body if I'm going to know how to be a safe and healthy adult in this world.
I recognised profound significance in the act of listening to my body, the ability to take those brief moments in time to notice how I felt. I also saw the need for self-expression, art and play so that I could connect with the part of me I had previously rejected (because I felt unsafe to do so).
Tell us more about the 4 Years of Intention
You may see a common thread in these paragraphs around safety and boundaries. That's because on a handful of occasions my father lacked both of those. He was not safe or healthy and lacked boundaries. That is not who I am or what it means to be a man or an adult. Those are the products of unresolved trauma. I am taking myself through these – The 4 Years of Intention – to not only develop my own understanding of who I am and express myself through Bear Intentions, but to gain experiential knowledge around the importance of what I see as pillars to health or The 4 Intentions: to listen, to play, to love and to empower. My hope is that over the course of the next four years I will have written four books, reflecting on my experience, the tools I used for managing my mental and physical health, and the need for intentional awareness of our feelings and emotions. I want to share these so that people don't have to suffer or punish themselves as I did, and hopefully empower others to begin listening to themselves.
This is why it's called Bear Intentions – to show one's intent externally (vulnerability). This is why its initials are B.IN – because that is where self-love belongs.
How important are charities such as Poets IN in helping you reach your goals?
The reason I am supporting a few charities over the next four years is because the scale of the challenges provides great opportunity to help fundraise for organisations like PoetsIN. They work to create environments that many are benefitting from. Our society needs to see more of these spaces, granting individuals the freedom to express themselves, if we are ever going to see a decline in the rates of mental illness and suicide.
We must learn as a collective how to manage our own health if we are to be able to support friends and family within our communities through the simple act of listening.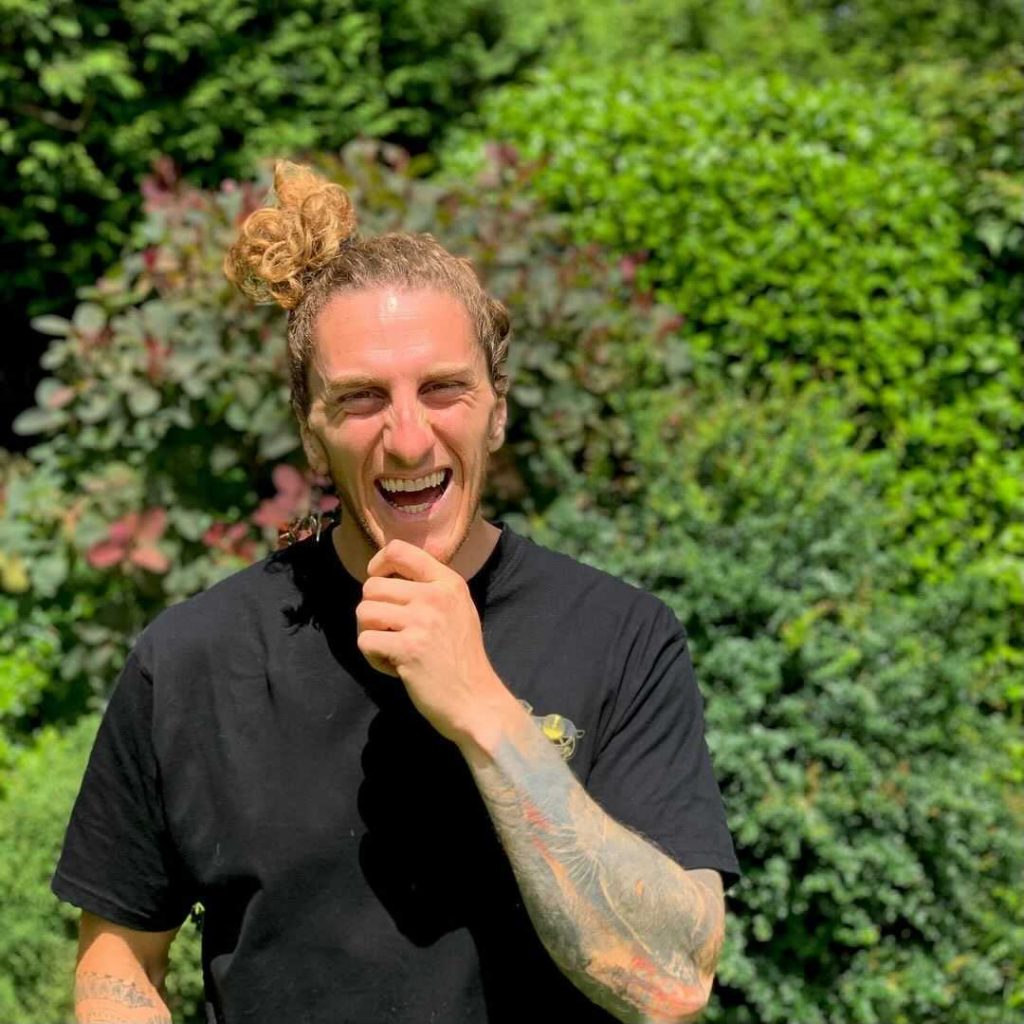 ***
Please support this incredible 4 year challenge by donating here.
Huge thanks to Sean for talking to us; and of course, for undertaking such a challenge! Think about it – could you stay silent for even a couple of days?
The process of committing words to page can be hugely therapeutic, as can verbally sharing one's journey or story. PoetsIN helps thousands of people struggling with their mental health using words and other creative outlets.
Young or old, anybody can benefit from support services including our Creative Mental Health Programme™, our Wellbeing Workshop™, Buddy Service™ and our Creative Mental Health Community.
For more information on how we could help you, visit the rest of poetsin.com.
Please follow and like us: