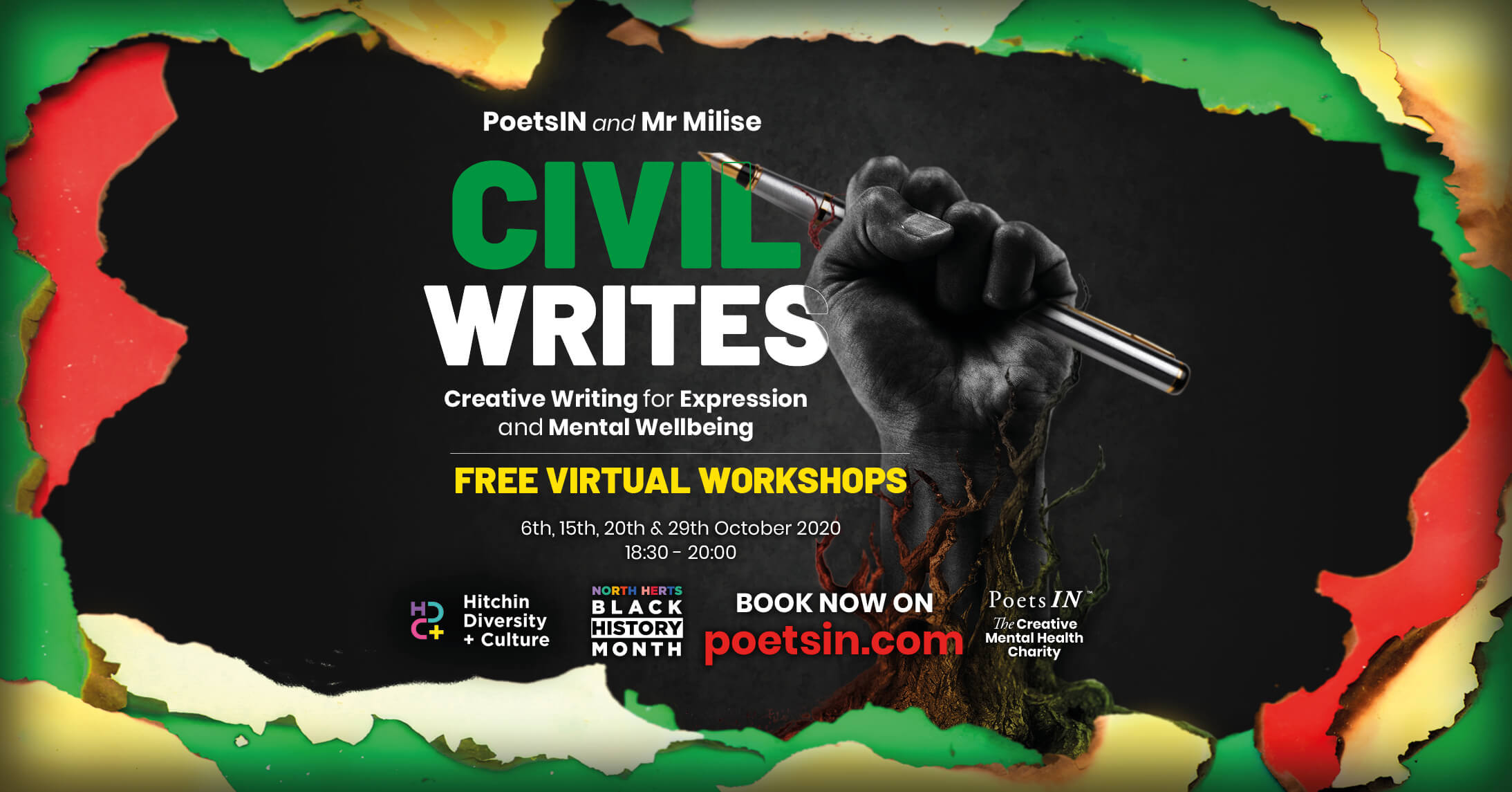 PoetsIN have joined forces with legendary Mr Milise from MMAP Workshops to deliver virtual workshops throught Black History Month that focus on creative writing for expression and wellbeing. They are called Civil Writes workshops and run throughout Black History Month in October.
All of the "Civil Writes" Workshops will be delivered by Quinton Green AKA Mr Milise from MMAP Workshops, PoetsIN Co-Founder Paul Chambers and their team in safe online spaces. Participants will be encouraged to develop their creative writing skills by exploring thoughts, feelings, frustrations and through mind mapping and language use. The workshops are fun, inclusive and a great place to purge and vent.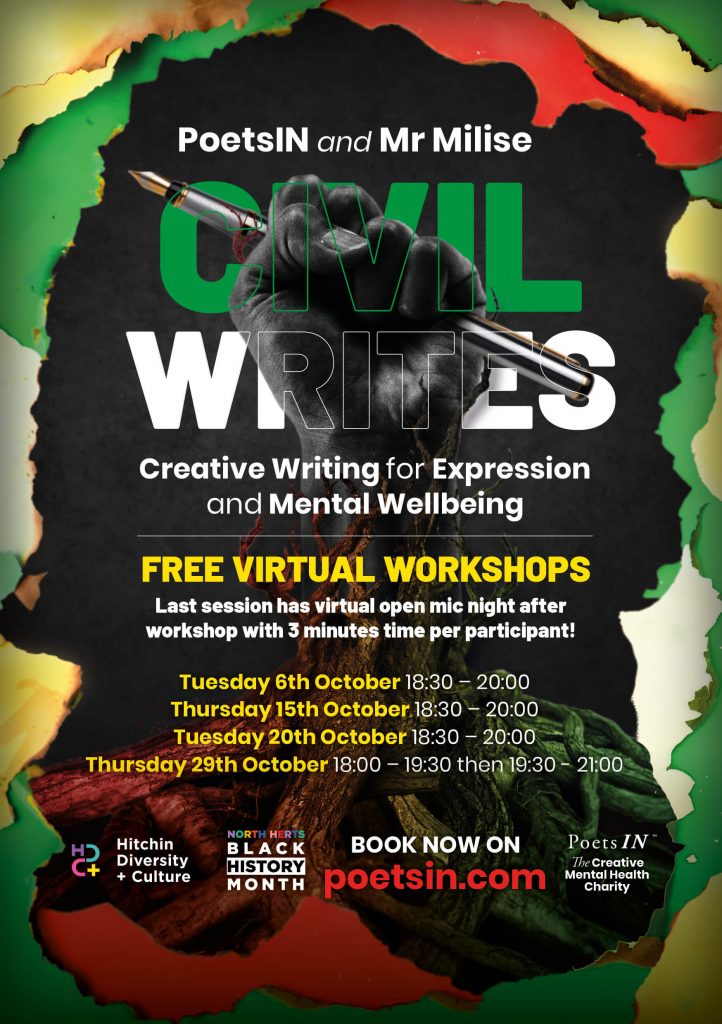 Special guests in the music industry, poetry and creative arts will also be attending. Following the last of the online workshops, participants will be invited to take part in a virtual Open Mic event to share their creativity.
Workshops are going to be held on the 6th, 15th, 20th. On 29th of October we'll be holding a showcase to give all of the participants an opportunity to display the work they produce.
Our first guest speaker was Stuart Lawrence, whose brother, Stephen, was murdered in a racially motivated attack while waiting for a bus in Well Hall, Eltham on the evening of 22 April 1993. Stuart has made it his mission to educate rather than hate and speaks of the importance of tolerance and captivated us all with his humilty, passion, eloquence and fire. Looks Great. We were also joined by Children's Book Publisher Winsome Duncan & spoken word poets Miss Yankey & Sommer Jade who shared their creativity with us and brought on the clicks! It was a resounding success.
Second speaker (and co host throughout) is Quinton Green, AKA Mr Milise; who works tackling knife crime after spending much of his youth on the peripheries of gangs and violence. Quinton, who was once a victim of knife crime himself and was previously stabbed seven times, set up Knife Crime Victim Support to help spare young people from similar experiences. Quinton delivers creative writing workshops to help express oneself.
The third session will be a workshop run by Mr Milise on Tuesday 20th 6:30 to 8:30pm incorporating the work he does in his workshops. Click here to book.
Our final session will be the Civil Writes Spoken Word Open Mic Night Workshop on Thursday 29th 6:30 to 8:30pm. Click here to book.

Open to ALL regardless of race, religion or writing levels. We discuss Equal Opportunity, Diversity and Culture and invite you to join us to share your words.
We also help those interested in expanding their Creative Writing Skills using written and spoken word to help promote expression and mental wellbeing.
Come along, join in, build links and tap into your creativity – all in the name of positivity and making a change in the world.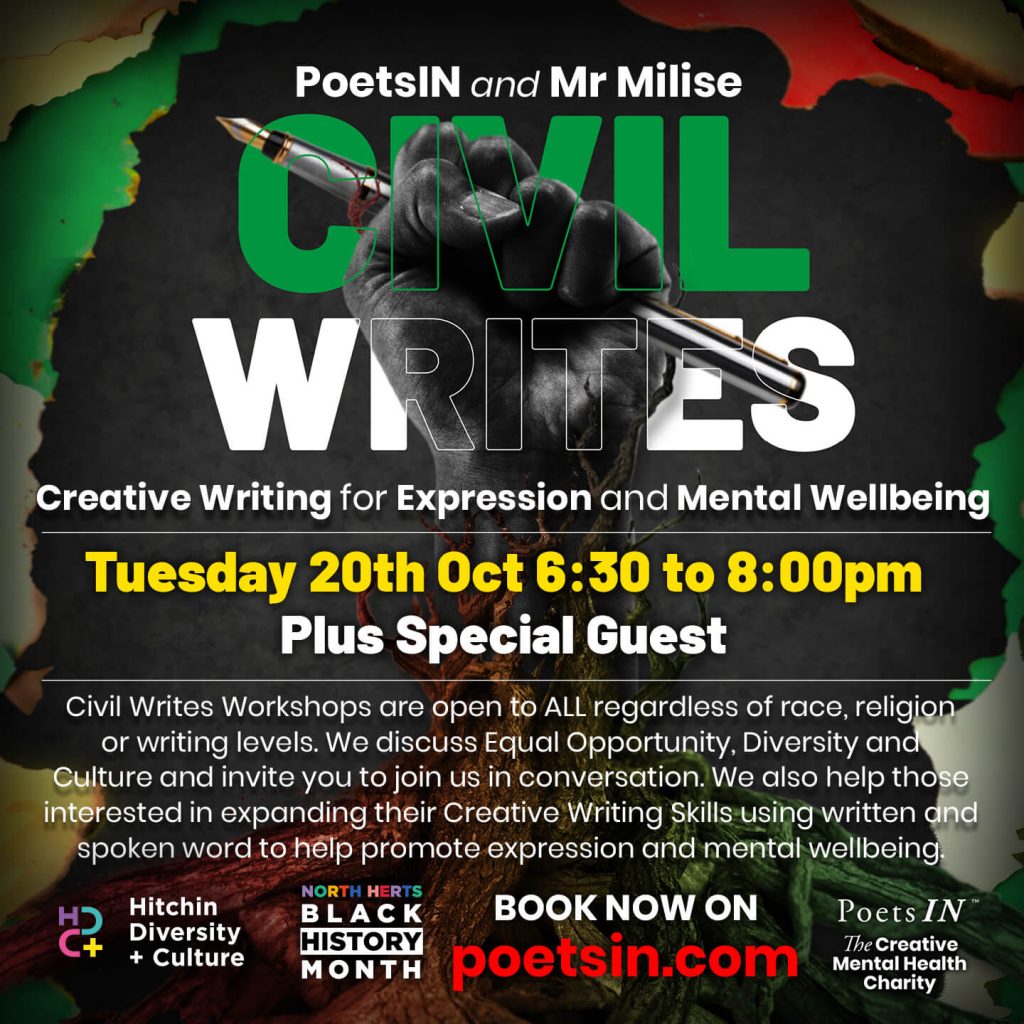 Dates and times:
Tuesday 6th October 18:30 – 20:00 Talk and MMAP workshop
Tuesday 20th October 18:30 – 20:00 Creative Writing and Spoken Word for Expression and Wellbeing
Thursday 29th October 18:30 – 20:30 Spoken Word Virtual Open Mic Night Workshop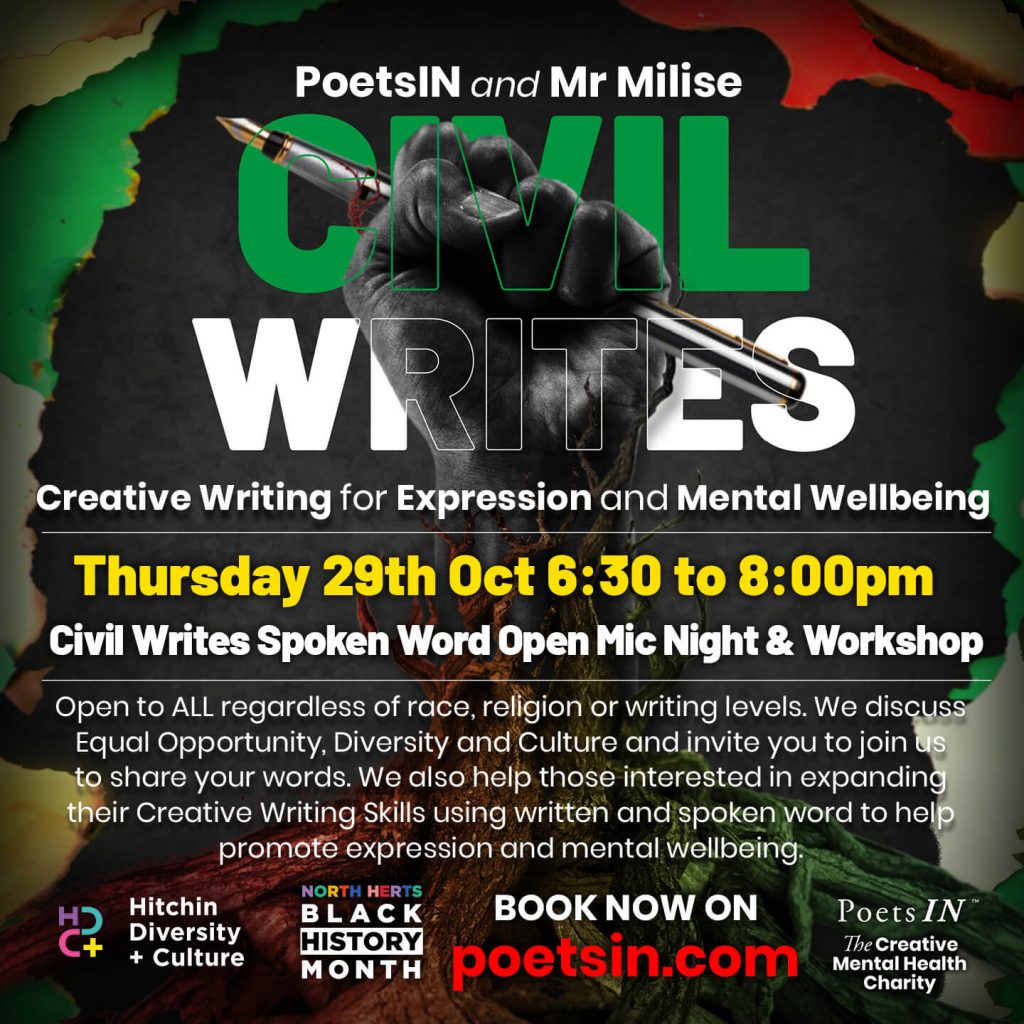 Please follow and like us: