Creativity is at the core of what we do. Here at PoetsIN, we teach creative writing to purge the innermost feelings most of us struggle to expel. It should come as no surprise to you that as a charity, we rely on fundraising events along with the generosity of companies and trusts to enable us to reach many people within our communities who find themselves with a mental illness.
We like to get stuck in and have plenty of fundraising events lined up that you can get involved in. We have lots of support from America and other corners of the globe and we've kept that in mind when organising these events. Some events will be location based, but other events will be accessible to anyone, no matter where you're geographically based.
Take a look below, and keep visiting, this page will be updated regularly. Past events will be displayed towards the bottom of the page, with pictures and information about the event.
If you have ideas for any fundraising events, get in touch. You can also visit our help us page, for more ideas on how to help us thrive.
Current Events
April 2018 Events 
The PoetsIN Literature Virtual Balloon Race
A virtual race works in the same way as a helium balloon race, but they fly around their own webpage rather than in the atmosphere. Each balloon costs £2 and we would love to sell as many as possible.  Each balloon will be named after a book or an author so there's plenty to choose from. Whether you go with your favourite children's author or your most loved book title, taking part will help us make a huge difference.
To join in all you need to do is the following:
Decide how many balloons you would like – this is an amazing fundraiser, and anyone can take part no matter what country you reside in.
Choose a name for your balloon(s) which will be featured on our Facebook pages – once chosen these names will be deleted. Should someone else have chosen the same name that day, we will endeavour to change the name of your balloon with the authors' name or with the title of another book by them. We will of course notify you of this change.


Visit our MyDonate Fundraising Page 
Fill in your donation form. **Please write the names of your balloon in the comments box – without this we can't process your entry, but your donation will still be accepted.
On April 14th all the balloons will be 'released' and left to fly around the virtual island. Every hour each balloon travels between 1km and 20km. The virtual Race will the end on 12th May at midday.
The balloon that has travelled the farthest wins an amazing book hamper which will posted out to the winner. There will also be prizes for the 2nd and 3rd place.
Once the race has started you can track your balloons on our own race page.
Mental health can leave lives up in the air with chaotic thoughts and actions through no fault of their own. Let's fundraise together and help empower the world of mental health one piece of literature at a time and help those feelings float away.
July 2018 Events

Spokenword / Indie Music all day event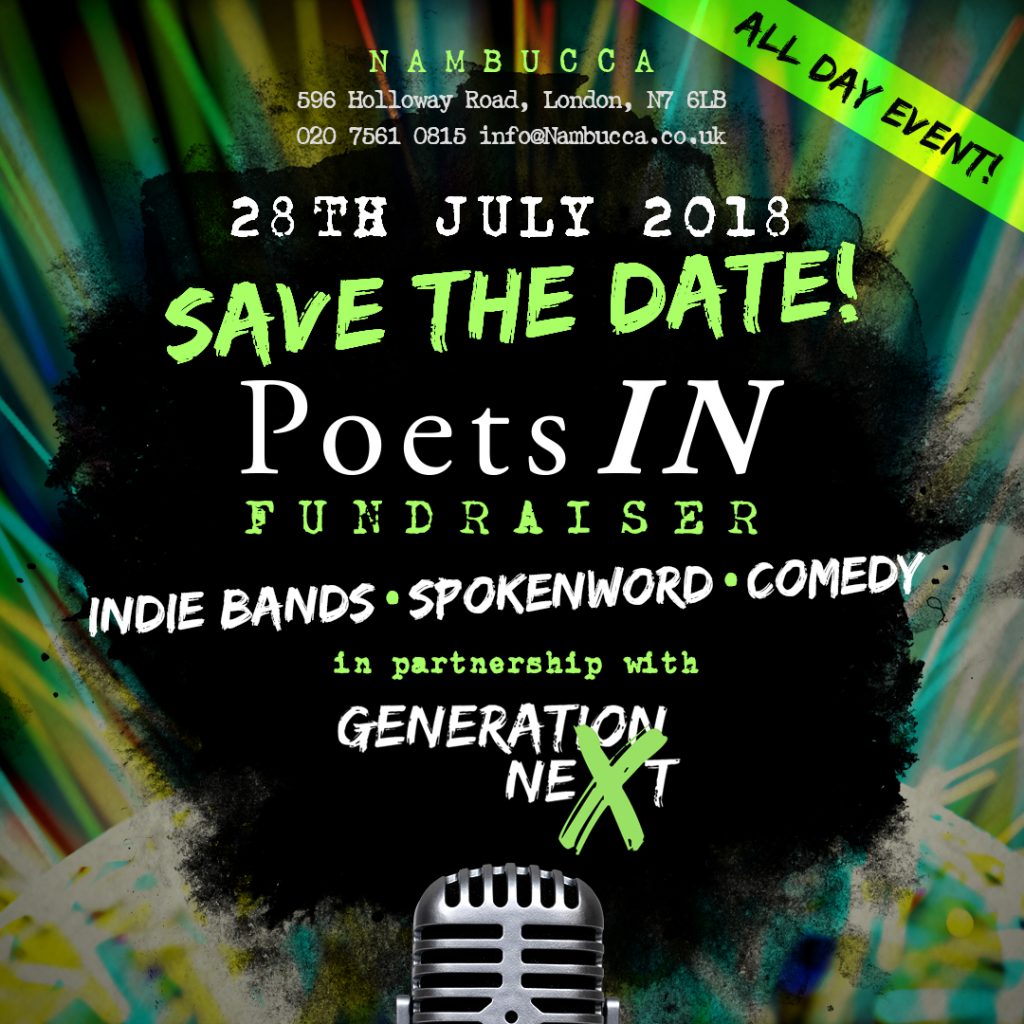 Tickets are on sale for our London Fundraiser, you can get an early-bird ticket here.
We've teamed up with Generation Next to bring you an awesome Summer bash.
If you love indie music and spokenword poetry, you'll love our all day fundraiser gig July 28th at legendary Nambucca in London. Save the date and join the PoetsIN team, with Ambassador Adam O'Sullivan.
We're looking for courageous individuals to share a photo of themselves like the one below, to help illustrate a point (that we can all have troubles no matter what we do) and to also feature in some footage to advertise our fundraisers. Hide your face with a sign with your job/s, what ails you or has ailed you, and the hashtag #poetsinfundraiser.
If you're a poet or musician, get in touch, we have limited spaces left to perform on the day.
September 2018 Events
Scribedive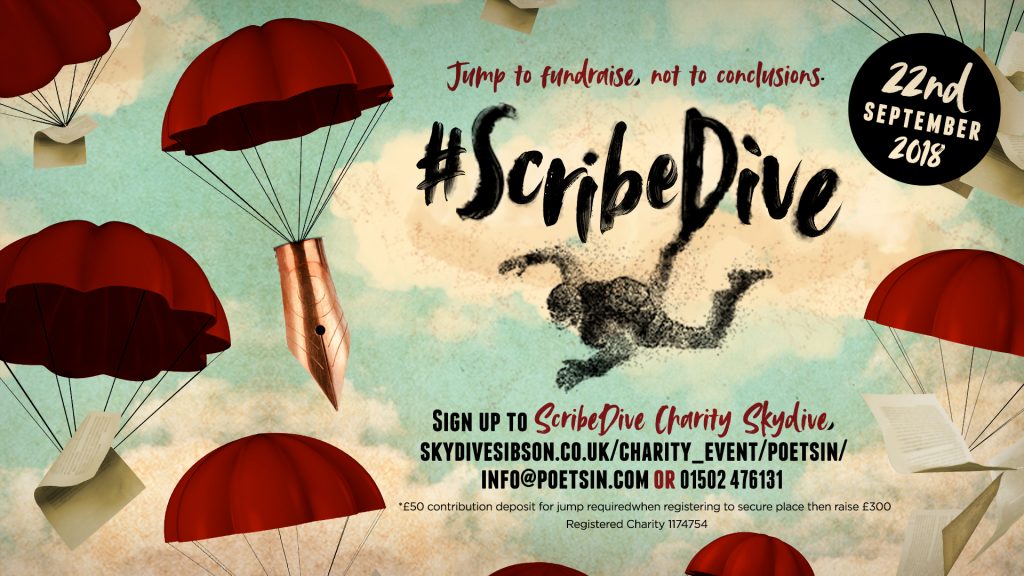 UK adrenaline junkies, listen up. We're doing a skydive to raise money for PoetsIN on September 22nd! Join charity co-founder Paul and jump to fundraise, not to conclusions!
If you want to join the many brave souls who are jumping to fundraise, you'll need to pay a non-refundable £50.00 deposit with the skydive company.
Once you've done that, head over to our BT MyDonate page, and set up your fundraising page. The minimum you'll need to raise is £300, PoetsIN will then pay the remaining balance for your jump.
Past Events

 
There are no past events available yet. Please keep checking back as this will change regularly.