Creativity is at the core of what we do. Here at PoetsIN, we teach creative writing to purge the innermost feelings most of us struggle to expel. It should come as no surprise to you that as a charity, we rely on fundraising events along with the generosity of companies and trusts to enable us to reach many people within our communities who find themselves with a mental illness.
We like to get stuck in and have plenty of fundraising events lined up that you can get involved in. We have lots of support from America and other corners of the globe and we've kept that in mind when organising these events. Some events will be location based, but other events will be accessible to anyone, no matter where you're geographically based.
Take a look below, and keep visiting, this page will be updated regularly. Past events will be displayed towards the bottom of the page, with pictures and information about the event.
If you have ideas for any fundraising events, get in touch. You can also visit our help us page, for more ideas on how to help us thrive.
Current Events
July 2018 Events

London Scrawling – Spokenword / Indie Music all day event
Tickets are on sale for our London Fundraiser, you can get an early-bird ticket here.
We've teamed up with Generation Next to bring you an awesome Summer bash.
If you love indie music and spokenword poetry, you'll love our all day fundraiser gig July 28th at legendary Nambucca in London. Save the date and join the PoetsIN team.
We're looking for courageous individuals to share a photo of themselves like the one below, to help illustrate a point (that we can all have troubles no matter what we do) and to also feature in some footage to advertise our fundraisers. Hide your face with a sign with your job/s, what ails you or has ailed you, and the hashtag #poetsinfundraiser.
If you're a poet or musician, get in touch, we have limited spaces left to perform on the day.
September 2018 Events
Scribedive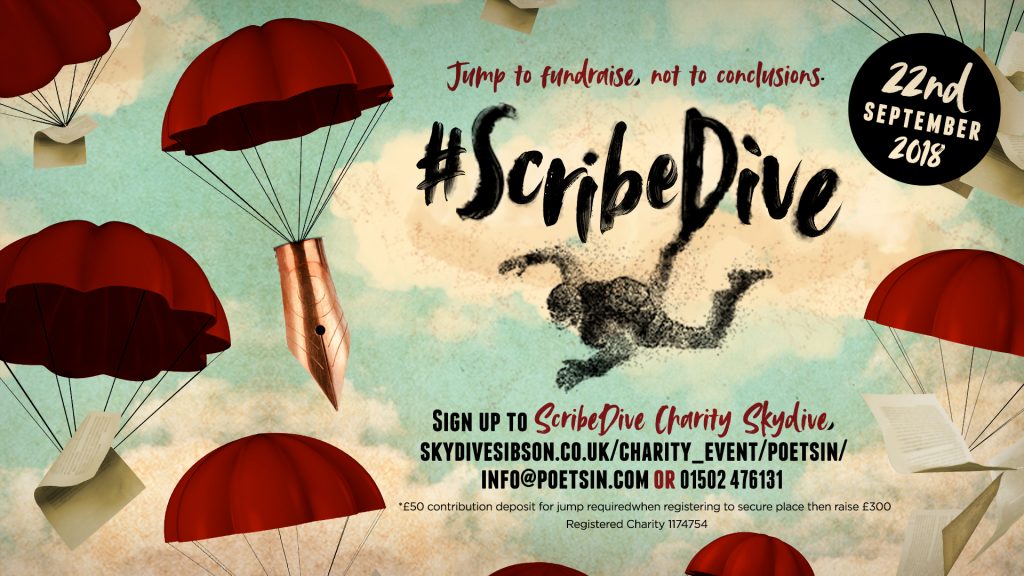 UK adrenaline junkies, listen up. We're doing a skydive to raise money for PoetsIN on September 22nd! Join charity co-founder Paul and jump to fundraise, not to conclusions!
If you want to join the many brave souls who are jumping to fundraise, you'll need to pay a non-refundable £50.00 deposit with the skydive company.
Once you've done that, head over to our BT MyDonate page, and set up your fundraising page. The minimum you'll need to raise is £300, PoetsIN will then pay the remaining balance for your jump.
Past Events

 
There are no past events available yet. Please keep checking back as this will change regularly.